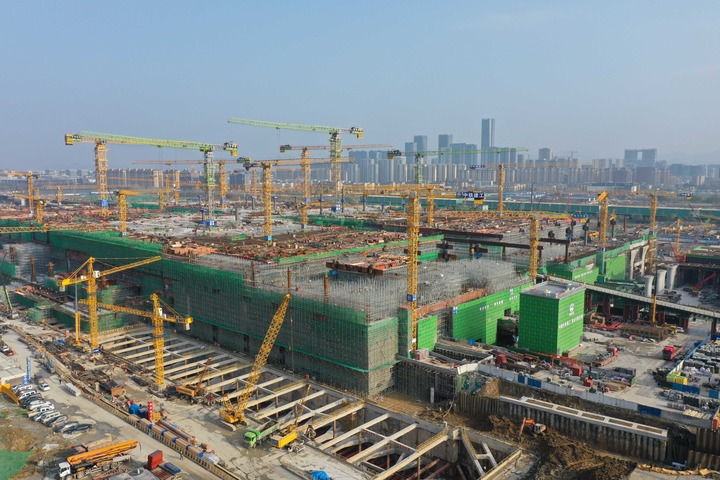 Aerial photo taken on March 12, 2021 shows the construction site of Hangzhou West Railway Station in Hangzhou, capital of east China's Zhejiang Province. Hangzhou West Railway Station is a key support project for the 2022 Asian Games, and also a part of Hangzhou's grand plans to step up the infrastructure of the city.
BEIJING, Aug. 3 (Xinhua) -- Chinese local governments are likely to speed up their bond issuance paces as their planned local government bond (LGB) issues in August have exceeded one trillion yuan, reported Xinhua-run Xinhua Finance Tuesday.
From January to July, China's LGB offerings mounted up to 1.88 trillion yuan, but the figure pointed to notable slowdown in the issuance paces compared with the past years.
Previously, China's Ministry of Finance (MOF) allocated 4.27 trillion yuan of new LGB quotas to Chinese local governments, which included 800 billion yuan quota for general LGBs and 3.47 trillion yuan quota for special-purpose LGBs.
This year, new LGB issuance was much slower than the previous years. By the end of July, over 50 percent of the annual LGB issues quota has not been used, said Zhou Yue, chief fixed-income analyst with Zhongtai Securities.
In the first seven months, new LGB issues accounted for merely less than 45 percent of the annual new LGB issues quota of 4.27 trillion yuan for 2021, while in 2020, the comparable data reached 60-plus percent and 80-plus percent in 2019.
In his opinion, the decelerated LGB issuance this year was mainly attributable to the later quota allocation than previous years and stricter requirements over the underlying projects for special-purpose LGBs.
Apart from these, the eased new LGB issuance pace may result to some extent from the more market oriented LGB pricing, added Zhou.
In August, LGB issues including both new ones such as general LGBs and special-purpose LGBs and those for refinancing to pay back expired LGBs may approach 1.05 trillion yuan, predicted Liu Yu, chief fixed-income analyst with GF Securities.
By far, 24 Chinese local governments have released plans for bond issues totaling 1.02 trillion yuan, including 731.8 billion yuan of new LGBs and 285.5 billion yuan of refinancing bonds, introduced Liu.
Based on multiple factors, Chinese local governments are likely to issue bonds in an intensive manner in the third quarter, believed Luo Zhiheng, chief macro-economy analyst with Yuekai Securities.
As Luo held, China required in a recent meeting reasonable arrangement and implementation of in-budget investment and LGB issuance, and together with influences from the repeated epidemic at home, the LGB issues quotas this year are likely to be used up especially when infrastructure remains an important means to underpin economic growth. (Edited by Duan Jing with Xinhua Silk Road, duanjing@xinhua.org)