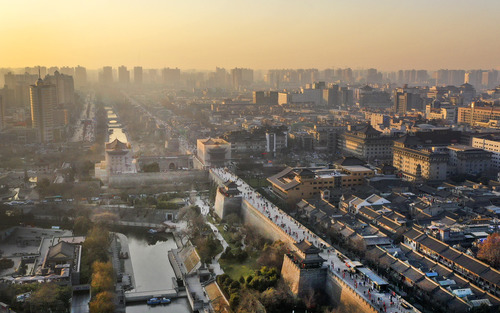 Aerial photo taken on Jan. 1, 2021 shows the sunset scenery in Xi'an, northwest China's ShaanxiProvince. (Xinhua/Tao Ming)
BEIJING, Aug. 3 (Xinhua) – The import and export volume posted by the comprehensive bonded zone in northwest China's Shannxi Province reached 131.9 billion yuan in the first six months of the year, up 18.13 percent year on year, accounting for 70 percent of the province's total in the period, according to Xi'an Customs.
In recent years, Shaanxi's bonded zones have played an essential role in promoting the province's reform and opening-up. At present, Shaanxi has seven comprehensive bonded zones, of which five bonded zones were set up in the provincial capital city of Xi'an.
Since 2019, the bonded zones have attracted more than 60 enterprises to start businesses here, further exerting the commercial agglomeration effect of the bonded zones.
The Xi'an Customs has been continuously promoting the establishment of the comprehensive bonded zone in Shaanxi Province. For example, the customs completed the inspection and acceptance of the construction of the bonded zone in the Xi'an aviation base in August 2019.
It is noted that the Xi'an customs was authorized by the General Administration of Customs (GAC) in May 2021 to complete the acceptance of the Guangzhong bonded zone project in Xi'an and will make further construction after the approval of the GAC.
(Edited by Jiang Feifan with Xinhua Silk Road, 346129473@qq.com)