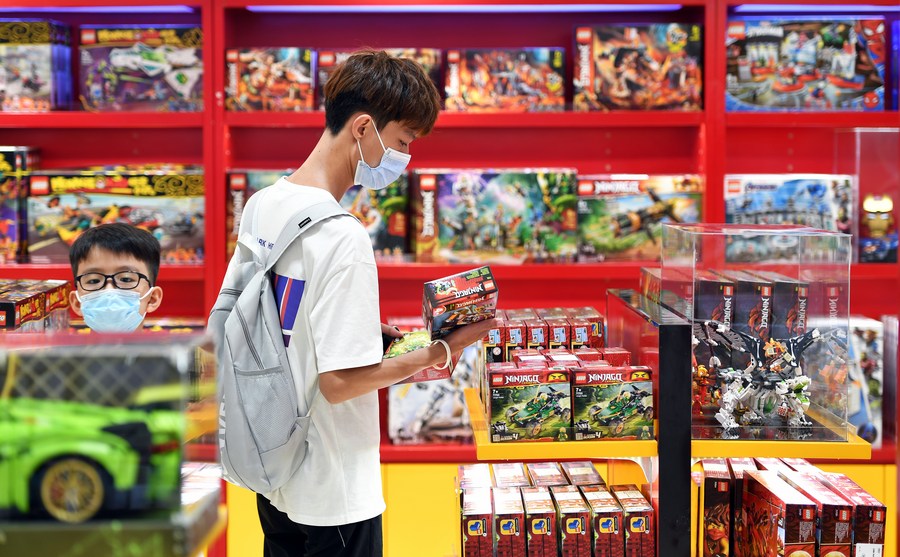 Customers choose products at a duty-free shopping mall in Haikou, south China's Hainan Province, July 2, 2021. (Xinhua/Guo Cheng)
BEIJING, July 31 (Xinhua) -- The purchasing managers' index (PMI) for China's non-manufacturing sector came in at 53.3 in July, down from 53.5 in June, the National Bureau of Statistics (NBS) said on Saturday.
A reading above 50 indicates expansion, while a reading below it reflects contraction.
In July, the sub-index for business activities in the services sector stood at 52.5, up from 52.3 in June.
The reading reflects a steady recovery in the services sector, fuelled by increasing summer consumption and other factors, said senior NBS statistician Zhao Qinghe.
The sub-indexes for business activities in air transportation, catering and the hotel and lodging sector climbed by more than 10 percentage points from last month, pointing to the rapid growth of business volumes in these areas.
Sectors related to financial services and insurance saw a slower pace of expansion in July, with the sub-indexes for business activities of these areas dropping by more than 9 percentage points.
The sub-index tracking business activity expectations for the services sector hit 60.1, remaining above 60 for six consecutive months, showing most services enterprises were optimistic about market prospects in the near term.
Affected by adverse weather conditions, including high temperatures and floods, the growth of construction activities in the country slowed, with the sub-index for business activities dipping to 57.5 in July from 60.1 a month earlier.
Saturday's data also shows the PMI for China's manufacturing sector came in at 50.4 in July, edging down from 50.9 in June.