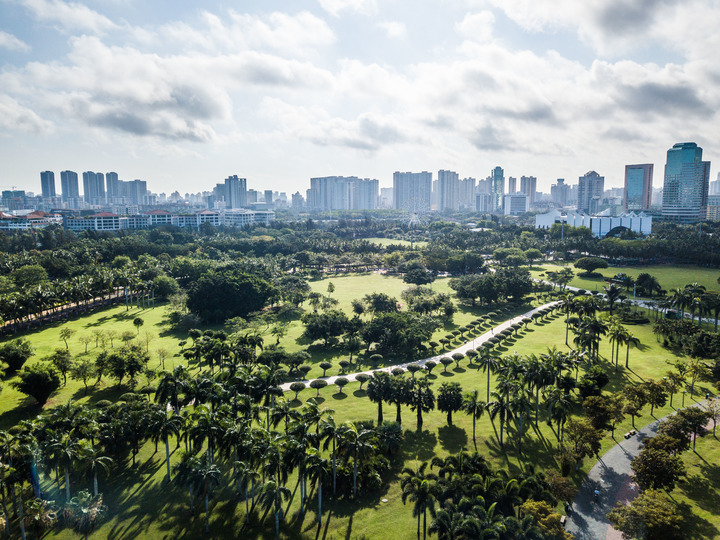 Aerial photo taken on May 3, 2021 shows the Wanlyuyuan Park in Haikou, capital of south China's Hainan Province. (Xinhua/Pu Xiaoxu)
BEIJING, July 29 (Xinhua) -- South China's Hainan Free Trade Port (FTP) realized surging foreign capital in actual use of 623.61 percent year on year in the first half of the year, maintaining its momentum of rapid increase after doubling its annual growth for the past three consecutive years.
Since the launch of the overall plan for the construction of Hainan FTP, a new wave of attracting foreign investment has surged in Hainan, making it an attractive destination for Chinese and foreign investors.
-- Explosive increase in the use of foreign capital

Since 2018, Hainan has saw explosive increase in foreign investment.
In the first half of 2021, a total of 979 foreign-invested companies were newly established in Hainan FTP, hiking 384.65 percent year on year, while the actual use of foreign capital reached 950 million U.S. dollars, surging 623.61 percent over the same period of last year.
With the further opening-up and lowering access threshold in Hainan's service sector, the potential of attracting investment in the sector has been further stimulated, according to an official with Hainan Provincial Department of Commerce, adding that the actual use of foreign capital of Hainan FTP reached 860 million U.S. dollars from January to June this year, accounting for 90 percent of the province's total.

Aside from traditional industries, some emerging industries including international shipping, financial leasing, high-end consumption, education and medical care have also made breakthroughs in attracting foreign investment in Hainan FTP.
As for the origin of investment, 80 countries and regions invested in Hainan in 2020, while in the first half of 2021, a total of 89 countries and regions have set up foreign-invested companies in Hainan.
-- Ongoing opening-up facilitates Hainan to attract foreign investment
The substantial growth of the actual use of foreign capital and newly established foreign-invested companies signifies Hainan's success in implementing the new initiatives of promoting high-level opening-up.
By taking advantage of the construction of the Hainan FTP, investors will share the benefits of China's development, said Liang Haiming, president of the Belt and Road Research Institute of Hainan University, pointing out that Hainan could further use big data and artificial intelligence to analyze possible investment opportunities, and attract targeted foreign investment.
Based on foreign investment practices in the Hainan FTP, the flourishing inflows of foreign investment could be attributed to the efforts made by the province in terms of policy, industry and business environment.
This year, Cambodia Angkor Air signed a contract with Haikou Government to jointly construct an aviation operating base. "We attach great importance to Hainan FTP's shipping policies, and will operate the Seventh Freedom of the Air in Haikou," said David Zhan, director and president of Cambodia Angkor Air China Operations.
Since the beginning of this year, a series of policies and measures regarding foreign investment and other areas have been adopted in Hainan, to promote enterprises' active participation in the Hainan FTP's development.
To be specific, the 2020 negative list for foreign investment in Hainan FTP took effect on February 1 this year. The list reserves 27 restrictive measures and makes arrangement to attract greater investment in the fields of mining and automobile manufacturing.
Meanwhile, the list also introduces a pilot program of expanding opening-up in the service sector of Hainan and 22 special measures of relaxing restrictions on market access in five areas, including health care, finance and culture.
In addition, preferential policies regarding corporate income tax and personal income tax have also served as pull factors for introducing companies and talents to Hainan. For example, in June this year, dōTERRA, an American aromatherapy and essential oils company, registered a subsidiary in Hainan to accelerate its access to the Chinese market.
"China is dōTERRA's most important overseas market. We are very optimistic about the remarkable opportunities of the Chinese market, and we wish to make use of the Hainan FTP's advantages in policies and industries to develop the Chinese market," said Owen Messick, president of dōTERRA China.
After the successful conclusion of the first China International Consumer Products Expo (CICPE), a number of investors in consumer products and other various fields expressed their interest in investing in Hainan.
For example, De Beers Group, the world's leading diamond company established an operation center in Hainan FTP, and Japanese brewer Kirin set up an office in Haikou, capital of Hainan Province.
-- Actively creating a favorable business environment
The law on the Hainan FTP was issued and implemented on Jun 10 this year. "From the feedback we have received from enterprises, foreign investors attach great importance to the stability of these policies and measures. The implementation of the law will attract more foreign investors to invest in Hainan," according to an official of Hainan International Business Council.
Hainan also made efforts to improve its business environment and streamline international trade and administrative procedures.
Hainan FTP will continue to expand the opening-up in the investment sector in a wider scope, and earnestly implement the 2020 negative list for foreign investment in Hainan FTP. While building and improving a system of fair competition and investor protection, Hainan will also create a more attractive investment environment and launch more foreign-invested projects, according to an official from the Department of Commerce of Hainan Province.
(Edited by Jiang feifan with Xinhua Silk Road, 346129473@qq.com)