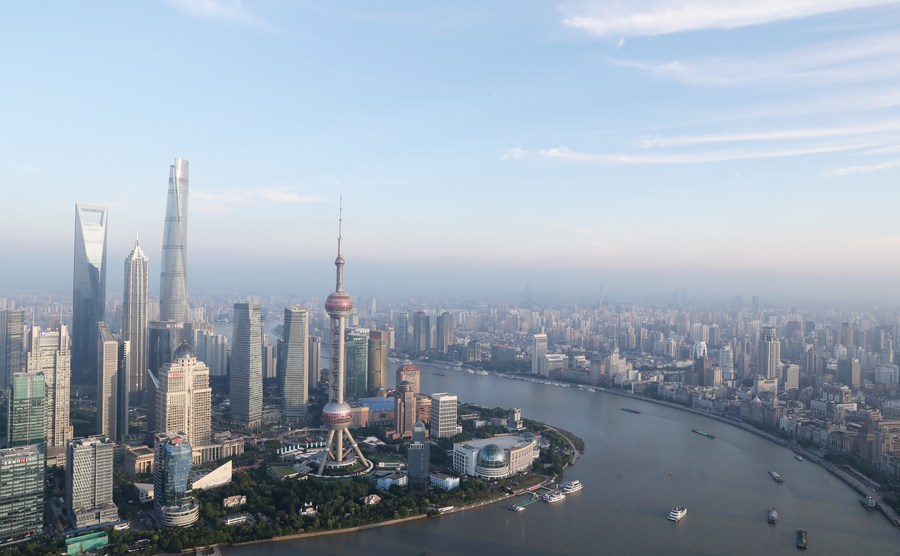 Photo taken on June 21, 2018 shows a view of the Lujiazui area in Shanghai, east China. (Xinhua/Fang Zhe)
BEIJING, July 27(Xinhua) -- Many regions in China have reported stable and progressive economic growth in the first half (H1) of 2021, and plan to introduce more measures to further boost the economic growth in the second half (H2), reported Shanghai Securities News Monday.
As of July 25, 27 provinces had announced economic performance data for H1, and 25 of them saw GDP growth exceed 10 percent. Jiangsu, Shandong, Jilin and Hainan provinces, Chongqing Municipality, and Guangxi Zhuang Autonomous Region saw the average two-year GDP growth rate in H1 exceed the GDP growth rate in H1 of 2019.
The role of consumption is more prominent in driving economic growth, and the consumption recovery in Hainan, Jiangxi and Guizhou provinces, Chongqing Municipality, Shanghai Municipality and other places gain momentum.
East China's Jiangxi Province saw its total retail sales of consumer goods in H1 increase by 31.3 percent year on year, 8.3 percentage points higher than the national average, with the two-year average growth rate registering 12.2 percent.
The business of offline stores in Shanghai has recovered significantly, with the retail sales of offline stores above designated size increasing by 33.7 percent year on year, and the two-year average growth recording 9.1 percent.
Benefiting from the offshore tax exemption policy, the total retail sales of consumer goods in south China's Hainan Province in H1 increased by 46.4 percent, an increase of 22.7 percent over 2019, with the two-year average growth standing at 10.7 percent.
New drivers are also gaining strength across the country. Shandong's investment in new technologies, industries, models and patterns in H1 increased by 17.0 percent year on year, with a two-year average growth rate of 17.6 percent. Such investment accounted for 49.9 percent of the province's total investment, an increase of 3.3 percentage points from the first quarter of 2021 and 2.3 percentage points from the same period of 2020.
In H1, the added value of Beijing's high-tech manufacturing and strategic emerging industries increased by 130 percent and 110 percent year on year, respectively, with the two-year average growth rate registering 54.4 percent and 42.8 percent, respectively, both significantly higher than the growth rate of industrial enterprises above designated size.
With remarkable economic performances in H1, many local governments are actively planning the economic priorities for H2 to ensure that the annual economic goals will be met.
For instance, east China's Zhejiang Province stressed to lay emphasis on coordinated development of investment, consumption and export to promote balanced and high-quality economic development. Northeast China's Heilongjiang Province announced to focus on services for enterprises, development in key technology and cultivation of new consumption patterns and models to meet this year's targets.
In H2, expanding effective investment and promoting quality improvement of consumption are still the key areas that local governments will work on.
North China's Hebei Province emphasized to focus on the construction of key projects and expand effective investment. It will increase precise investment promotion and industrial chain investment promotion, strengthen policy, capital, land, and energy supports, comprehensively accelerate the construction of projects under construction, and strictly implement tax and fee reduction policies to stimulate the vitality of private investment and private economy.
Southwest China's Chongqing Municipality will work more on promoting consumption recovery by vigorously improving the consumption environment, increasing the supply of high-quality services, and developing new areas of consumption, continuously unleashing the consumption potential.
Jiangxi will make greater efforts to stimulate the vitality of market entities through measures like smoothing the economic circulation, stabilizing price fluctuations, reducing corporate costs and optimizing the development environment.
(Edited by Wang Yuhang, Gu Shanshan with Xinhua Silk Road, gushanshan.1987@163.com)