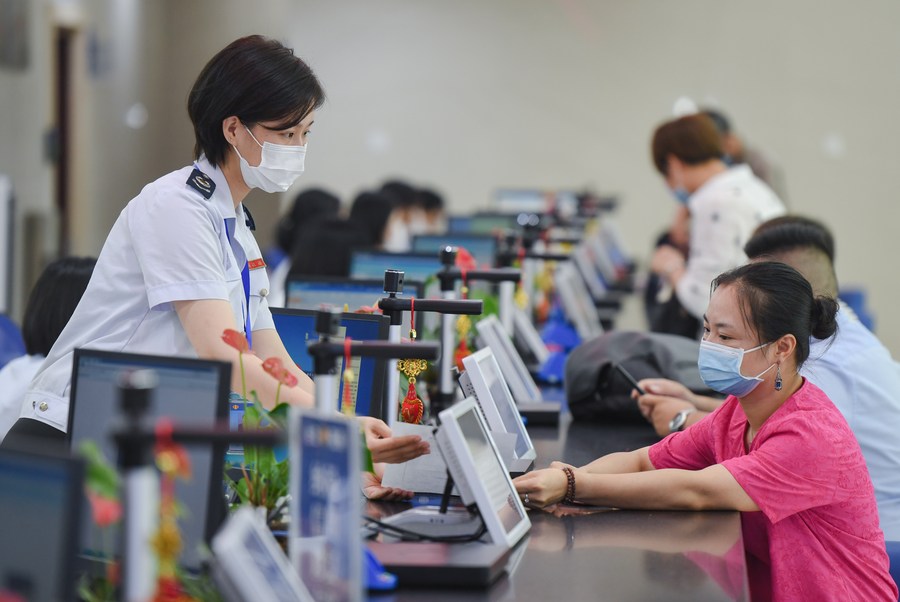 A staff member receives a credit repair application filed by an enterprise representative at a tax bureau service center in Taijiang District, Fuzhou, southeast China's Fujian Province, July 21, 2020. (Xinhua/Song Weiwei)
BEIJING, July 26 (Xinhua) -- China has seen a robust growth in taxpaying market entities in the first half of the year amid the deepening of reforms to streamline government administrations, according to the State Taxation Administration.
The number of market entities handling tax-related businesses for the first time exceeded 6.24 million in the first six months, up 27.3 percent from the same period last year, the administration said Monday.
The number of such tax-paying business entities topped 34,000 daily during the period.
The sales revenue of the enterprises went up 34.4 percent year on year, putting the average January-June growth of the past two years at 15.1 percent, data showed.
As China deepens reform in streamlining administrations, the vitality of the market entities has invigorated, said Zhao Lianwei, an official with the administration. Enditem