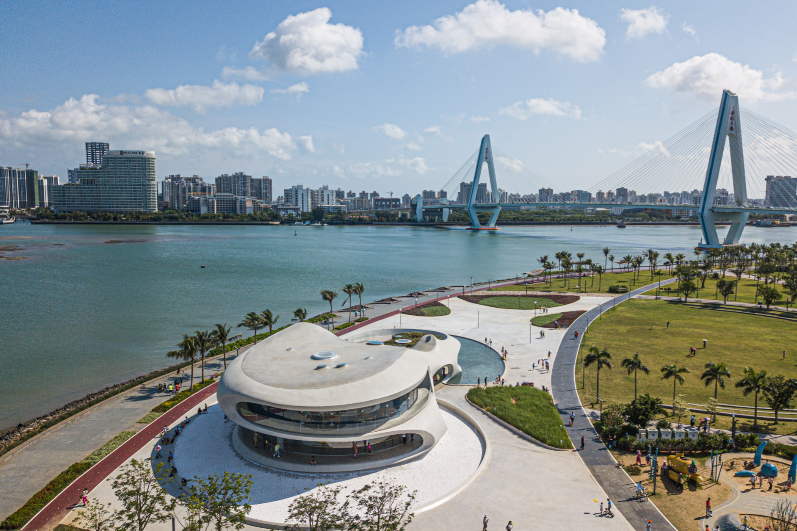 Aerial photo taken on May 3, 2021 shows the Wormhole Library in the Haikou Bay in Haikou, capital of south China's Hainan Province. (Xinhua/Pu Xiaoxu)
BEIJING, July 26 (Xinhua) -- China will make explorations in introducing a negative list for the cross-border services trade in the pilot free trade zones (FTZs) and even nationwide in the next step, according to Chinese vice commerce minister Wang Shouwen, who is also the deputy China International Trade Representative, at a press conference on Monday.
China's Ministry of Commerce (MOC) has recently released a negative list for cross-border trade in services in its southern island province of Hainan, the first negative list for services trade in the country.
The list outlined 70 special management measures in 11 categories for overseas services providers, according to a statement on the website of the ministry.
For areas not included in the list, domestic and overseas services providers shall have a level playing field and enjoy equal market access in Hainan free trade port, the statement said.
Wang said that as an important platform for the country's opening-up, Hainan Free Trade Port (FTP) has launched the country's first negative list for the cross-border services trade, which will help implement the principle of taking risk prevention and control as the bottom line, and play a demonstrative role in the implementation of the negative list on a trial basis.
The introduction of the negative list for cross-border services trade in Hainan will help explore the path and accumulate experience for further opening-up in the next step, according to Wang. (Edited by Hu Pingchao with Xinhua Silk Road, hupingchao@xinhua.org)