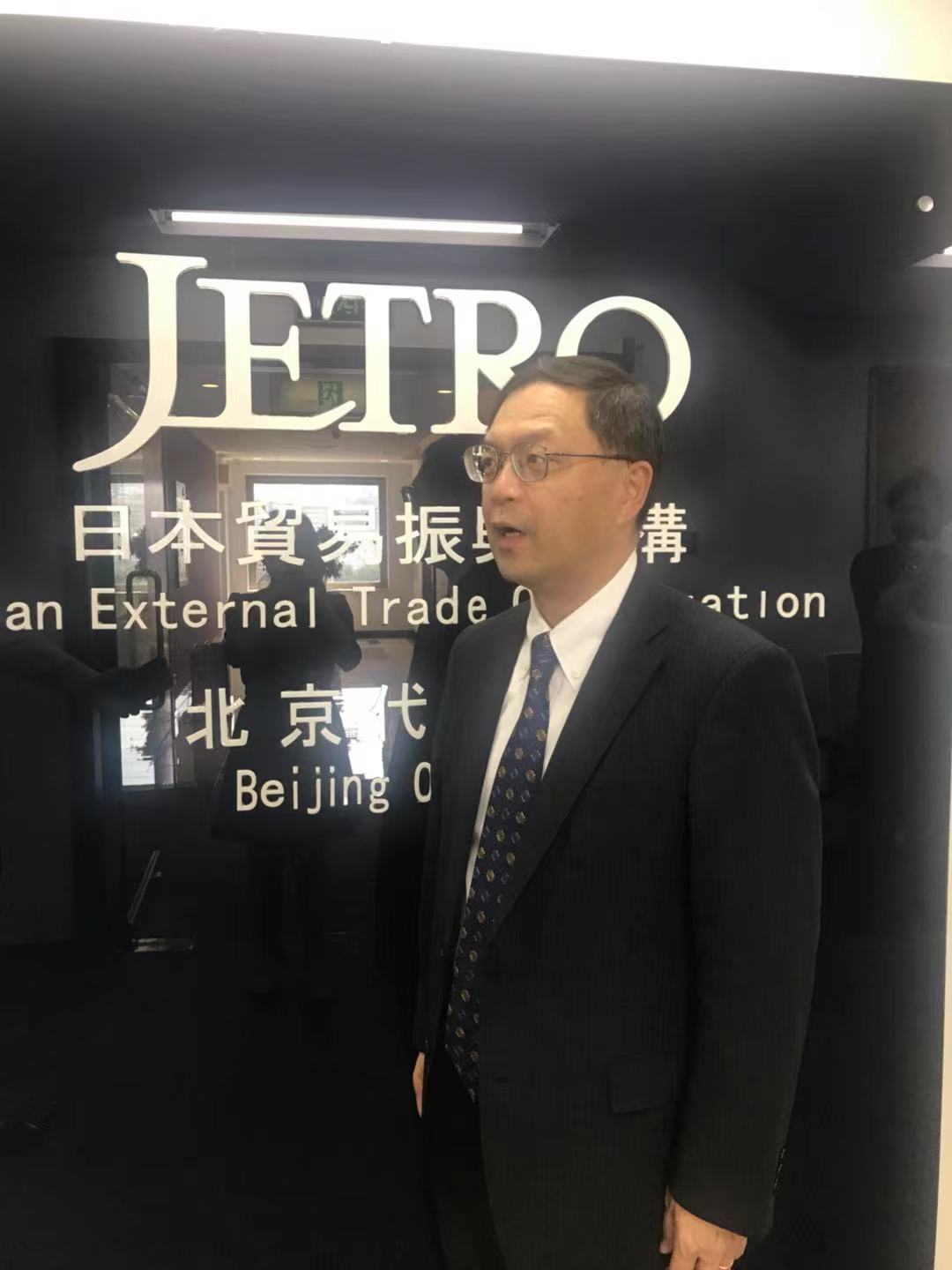 The photo shows Takashima Ryusuke, director general for the Beijing Office of Japan External Trade Organization (JETRO) being interviewed by media on July 23.
BEIJING, July 24 (Xinhua) -- China International Fair for Trade in Services (CIFTIS) is playing an important role in deepening cooperation between Chinese and Japanese enterprises, Takashima Ryusuke, director general for the Beijing Office of Japan External Trade Organization (JETRO) told Xinhua in an interview on Friday.
Against a backdrop of restricted human and logistics flows and impeded trade amid the COVID-19 pandemic, this year's CIFTIS takes advantage of digital technologies and better promotes communication and cooperation of Chinese and Japanese enterprises, said Takashima Ryusuke.
As the largest comprehensive exhibition in services sector worldwide, the 2021 CIFTIS will be convened in Beijing during September 2-7, setting up around 130,000 square meters of exhibition areas and planning 100-plus forums, meetings and recommendation activities for exhibitors to seek business opportunities.
By July 13, a total of 138 foreign institutions and China-located foreign institutions from 105 countries and regions around the world including 76 Belt and Road related countries have planned to participate in the 2021 CIFTIS online or offline.
Takashima Ryusuke introduced that JETRO has been one of the old friends of CIFTIS and participated in each year's activities of CIFTIS since the first session was held in 2012. In 2021, the exhibition areas of Japanese exhibitors on CIFTIS are eight times of the comparable total in 2020 and the related Japanese firms are actively preparing for the event.
This year, the CIFTIS highlights opening up and cooperation in services sector to promote global economic recovery. Six types of activities totaling more than 100 ones will be convened, including the global services trade summit, conferences and meetings, exhibitions, recommendation activities, achievements releasing events and side meetings.
By establishing for the first time the digital service special zone, this year's CIFTIS will attach importance to showcasing the latest development, achievements and technological applications in digitalized, networked and intelligent services worldwide so as to foster new development of digital economy and digital trade.
By far, large Japanese companies including Canon and NEC have registered together with 37 renowned Chinese and foreign enterprises for the exhibition activities in the digital service special zone on CIFTIS this year, according to Takashima Ryusuke.
In his eyes, China is an important market for Japanese companies. Takashima Ryusuke noted that JETRO also values the China market and cranks up its efforts into organizing Japanese firms to take part in the CIFTIS.
This year, JETRO will take cross-border e-commerce as the theme of its activities on CIFTIS due to the impacts from the COVID-19 pandemic and make preparations for the fair by focusing on introduction of Japanese products that can be purchased via cross-border e-commerce operators, said Takashima Ryusuke.
Each year, CIFTIS, as a platform to promote products and services of enterprises, is applauded by exhibitors. Different from expos in specialized fields, the CIFTIS can provide diversified exhibition services for enterprises in a wide range of fields and chances for companies to conduct B2B business negotiations with firms in other industries, added Takashima Ryusuke.
The 2021 CIFTIS will be jointly held by China's Ministry of Commerce and the People's Government of Beijing Municipality.
JETRO is a Japanese government-related organization that works to promote mutual trade and investment between Japan and the rest of the world. Its Beijing Office is dedicated to supporting Japanese companies to enter the China market and Chinese companies to go into the Japan market. (Contributed by Duan Jing with Xinhua Silk Road, duanjing@xinhua.org)