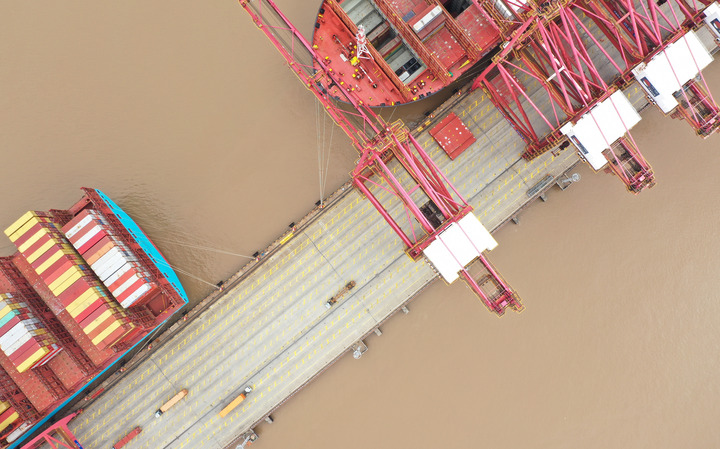 Aerial photo taken on March 3, 2021 shows a view at the NingboZhoushan Port in Ningbo, east China's Zhejiang Province. Both cargo and container throughput of NingboZhoushan Port registered year-on-year growth of 4.7 percent and 4.3 percent respectively in 2020. (Xinhua/Weng Xinyang)
BEIJING, July 22 (Xinhua) – The Ningbo area of east China's Zhejiang Pilot Free Trade Zone (FTZ) recently released an action plan vowing to facilitate cross-border RMB settlement and promote financial innovation in the FTZ further, reported the Xinhua-run Xinhua Finance Tuesday.
The action plan is expected to facilitate 90 percent of more than 5,000 business entities in the Ningbo area in cross-border RMB settlement, which will involve over 60,000 transactions per year on average, accounting for 95 percent of Ningbo's total.
The Ningbo area will facilitate cross-border RMB settlement for export goods trade and allow enterprises outside the negative list and business receipts and payments under 400,000 RMB to directly handle export goods trade through cross-border RMB settlement without providing supporting materials.
Efforts will also be made to facilitate the daily payment and receipt of current account funds for high-quality enterprises in Ningbo. High-quality enterprises that have passed the Ningbo financial self-discipline mechanism can directly handle all existing account cross-border RMB settlements (except for re-export trade and refunds) without submitting proof materials in advance.
The Ningbo area will support high-quality enterprises to carry out entrepot trade of bulk commodities such as energy, chemicals, and iron ore through cross-border RMB settlement. At the same time, it will authorize local banks to independently decide the types and forms of transaction documents when handling cross-border RMB settlements for relevant enterprises that have access the self-discipline mechanism of Ningbo.
The plan also proposes that qualified enterprises in the Ningbo area can directly handle the compliant use of income from foreign direct invesmtent, cross-border financing and funds raised from overseas listing in their cross-border RMB accounts by showing the payment certificate of cross-border RMB capital account income.
While optimizing the cross-border trade settlement process of the FTZ, the implementation of the action plan also provides a higher level of convenient services for market players, which will effectively facilitate the high-quality development of the FTZ.
(Edited by Jiang Feifan with Xinhua Silk Road, 346129473@qq.com)