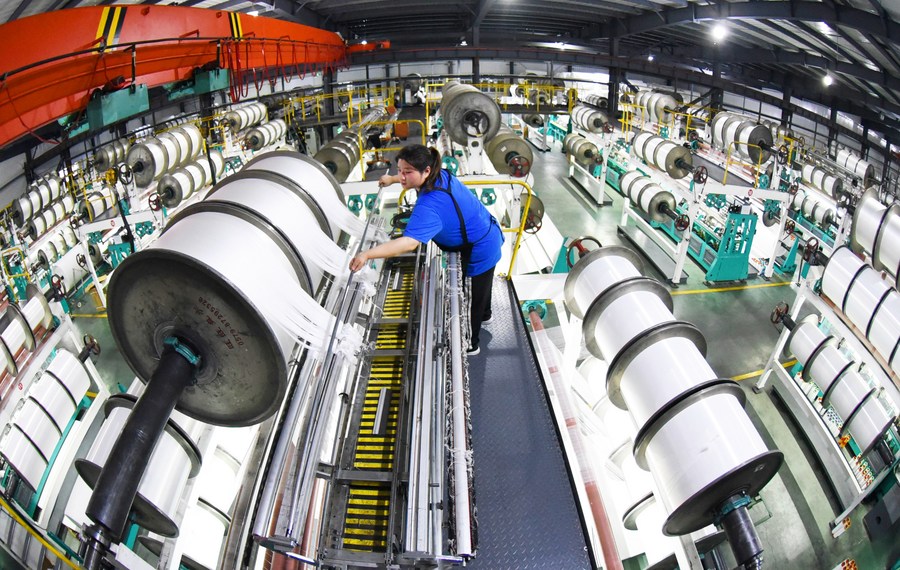 A worker is busy on the production line at the weaving workshop in an economy development zone in Lianyungang, east China's Jiangsu Province, Oct. 19, 2020. (Photo by Geng Yuhe/Xinhua)
BEIJING, July 22 (Xinhua) -- China's private investment continues to grow at a faster speed, reported Shanghai Securities News Wednesday.
In the first half (H1) of the year, the private investment in China increased by 15.4 percent year on year, with the two-year average growth rate standing at 3.8 percent, 2.1 percentage points higher than that in the first quarter. The private investment in manufacturing increased by 21.1 percent and that in infrastructure by 17.2 percent.
In the second half (H2) of the year, private investment has continued to gain momentum.
At a meeting on promoting the high-quality development of north China's Inner Mongolia Autonomous Region with private enterprises held Tuesday in Hohhot, Inner Mongolia, 138 major projects were signed, involving 12 key areas of energy, agriculture and animal husbandry, energy conservation and environmental protection, digital economy, equipment manufacturing, building materials and chemicals, infrastructure, cultural tourism, modern services, strategic emerging industries, etc.
These include 42 formal agreement projects and 96 framework agreement projects, with 32 of them involving Fortune Global 500 companies, Fortune China 500 companies, and China's top 500 private enterprises.
Recently, many local governments have intensively promoted private investment projects and planned to carry out reserves for major projects. For instance, related authorities in east China's Anhui Province jointly issued a circular requiring all localities to quickly make plans and carry out reserves for major projects in the field of rural revitalization, and introduce private investment.
The boom of private investment is inseparable with the support of favorable policies.
Since the beginning of this year, related authorities have further implemented measures to reduce taxes and fees, ease the financing difficulties, reduce the cost of financing, and foster a level playing field in the market for private enterprises, which has effectively promoted the development of private investment.
More beneficial measures are on the way, including deepening the government service reform to forge a better business environment, and strengthening just supervision and fighting against monopoly and unfair competition to provide small and medium-sized enterprises (SMEs) with more choices and room for growth.
A symposium studying the current economic situation with experts and entrepreneurs presided over by Chinese Premier Li Keqiang on July 12 released important signals to more effectively stimulate the vitality of market entities.
Promoting changes in the quality, efficiency and driving force of private enterprises is an important way to stimulate the vitality of market entities, establish a modern economic system, and achieve high-quality development, said Gao Yunlong, vice chairperson of the 13th National Committee of the Chinese People's Political Consultative Conference (CPPCC) and chairman of the All-China Federation of Industry and Commerce (ACFIC), on Tuesday.
Insiders believe that China boasts huge investment potential and space, and efforts should be made to further relax the investment restrictions on private capital.
"In the long run, new industrialization, informatization, urbanization, and agricultural modernization all contain huge investment space. There is great investment potential in promoting the renewal and transformation of urban infrastructure, implementing the strategy of rural revitalization, optimizing and stabilizing supply chains and industrial chains, and accelerating the transformation and upgrading of traditional industries," said Liu Aihua, a spokesperson with the National Bureau of Statistics of China.
There is still a lot of room for growth in private investment, and in addition to manufacturing, the service industry and infrastructure construction can also provide many development opportunities for private investment, said Liu Xingguo, a researcher with the China Enterprise Confederation.
Insiders also believe that with the gradual release of policy effects and the enhancement of profitability expectations, private investment projects will usher in another implementation climax in the third and fourth quarters of this year.
(Edited by Wang Yuhang, Gu Shanshan with Xinhua Silk Road, gushanshan.1987@163.com)