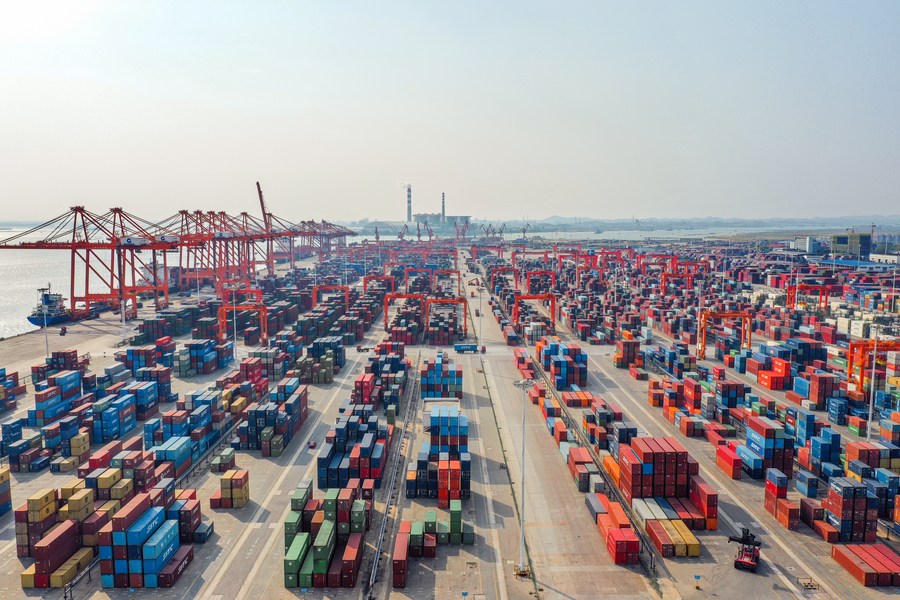 Aerial photo taken on May 27, 2020 shows a view of the container terminal of Beibu Gulf Port in south China's Guangxi Zhuang Autonomous Region. (Photo by Xu Zhiyan/Xinhua)
BEIJING, July 15(Xinhua) -- China's cargo transport continued to grow rapidly in June this year, reported Economic Information Daily Wednesday quoting industry data.
The China Transportation Services Index (CTSI), released by the China Academy of Transportation Sciences under the Ministry of Transport of China, stood at 171.9 points in June, rising by 11.7 percent year on year but down 1.2 percent from the same period in 2019.
The CTSI incorporated the transport volume of passengers and cargo of various transportation modes including railway, highway, waterway and civil aviation. With 2010 as the base year and 100 points as the base value, the index includes passenger transport and cargo transport as two subindices.
The subindex for cargo transport under CTSI came in at 200.5 points in the same month, up 8.2 percent year on year and 13.7 percent from the same period in 2019, while the subindex for passenger transport under CTSI gained 23.4 percent year on year to 119.2 points, down 29.8 percent from the same period of 2019.
The two-year average growth of the subindex for cargo transport registered 6.6 percent in June, maintaining around 6-8 percent for the eighth consecutive month, said Zhou Jian, deputy director with the Information Center of the China Academy of Transportation Sciences.
This indicates that China's economy in the second quarter this year is expected to carry on the sound performance in the first quarter from the long-term relationship between cargo transport and economic growth, added Zhou.
(Edited by Gu Shanshan with Xinhua Silk Road, gushanshan.1987@163.com)