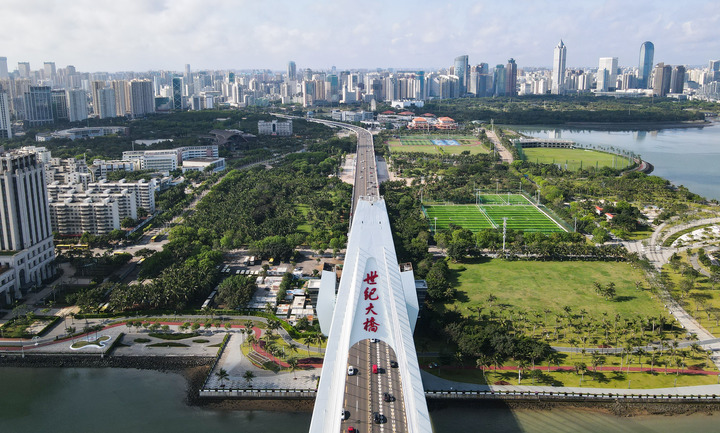 Aerial photo taken on May 3, 2021 shows a bridge in Haikou, capital of south China's Hainan Province. (Xinhua/Yang Guanyu)
BEIJING, July 15 (Xinhua) -- The Hainan Free Trade Port (FTP) in southern China witnessed a total of 191,000 new market entities settled in the province in the first half of the year, surging 69.23 percent year on year, reported Hainan Daily Tuesday.
Since the release of the master plan for the construction of the FTP to June this year, a total of 428,000 new market entities have been set up in the FTP, with an increase of 52.31 percent, including about 200,000 enterprises, hiking 136.73 percent.
Meanwhile, a total of 1.35 million new market entities have been gathered by the end of June this year, among which the new increment since last June accounted for nearly one-third of the total.
The new market players settled in Hainan FTP are mainly concentrated in wholesale and retail, leasing and business services, information transmission, and software and information technology services during the period, accounting for nearly 70 percent of the total.
During the same period, 384,000 new market entities were registered in Hainan's three leading industries, namely tourism, modern service, and high-tech industries, surging 53.88 percent.
(Edited by Jiang Feifan with Xinhua Silk Road, 346129473@qq.com)