BEIJING, July 15 (Xinhua) -- China is sending a clear signal on opening up to the world as the government will further implement opening-up policies in a wider scope, broader areas and at a deeper level, so as to better participate in international economic cooperation and promote cooperation between China's super-large market and the international market.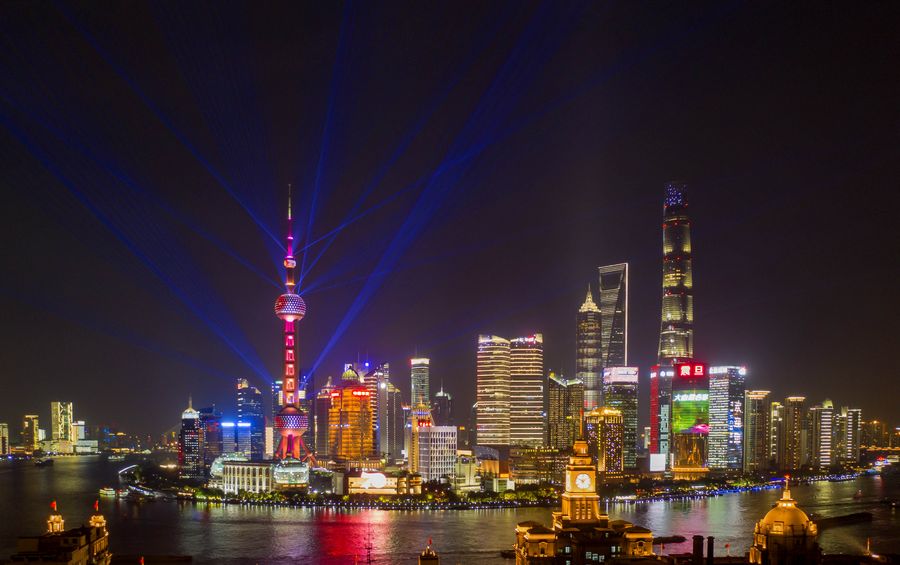 A light show at Lujiazui area in Pudong District of east China's Shanghai, Sept. 26, 2019. (Xinhua/Ren Long)
-- Favorable policies help China open up steadily
Statistics showed that by the end of 2019, foreign-invested companies have created 40 million new urban jobs, accounting for about ten percent of the total urban employment. Foreign trade, hailed as one of the three wagons that pull GDP growth, created about 180 million jobs, which strongly underpinned the balance of payments, and contributed to fiscal revenue. During the 13th Five-Year Plan period(2016-2020), tariffs, import VAT and sales tax exceeded 8.9 trillion yuan.
Meanwhile, China's opening-up is adding fresh impetus to international economic and trade cooperation. Against the backdrop of a sharp decline in global trade and cross-border direct investment in 2020, China's total goods imports and exports achieved a record high of 32.2 trillion yuan, with a year-on-year increase of 1.9 percent. Outbound investment in actual use totaled about one trillion yuan, up by 6.2 percent, while outbound direct investment rose 3.3 percent to more than 900 billion yuan, becoming an important engine for world economic recovery.
In 2020, China surpassed the U.S. to become the largest recipient of foreign investment, contributing more than 30 percent to global economic growth for consecutive several years. These achievements are mainly attributable to a series of opening-up policies, high-level platforms for opening up, steady progress in advancing the Belt and Road Initiative, deepening regional economic and trade cooperation, as well as the hosting of China International Import Expo, China International Fair for Trade in Services, and China Import and Export Fair.
--A blueprint for higher-level opening up
The Outline of the 14th Five-Year Plan(2021-2025) has further specified a comprehensive plan that calls for establishing a new system for higher-level open economy, promoting and jointly building high-quality development of the Belt and Road Initiative, and active participation in reforming and developing the global governance system.
Accelerating and promoting institutional opening-up has become a major task. The Outline of the 14th Five-Year Plan has proposed that improvements be made to the pre-establishment national treatment plus negative list management system for foreign investment, a further cut in the negative list for foreign investment market access, the implementation of post-establishment national treatment, and the promotion of fair competition between domestic and foreign companies. The management system related to the negative list for cross-border trade in services should be established and improved, and the technology trade promotion system enhanced.
Zhang Fei, Deputy Director of the Foreign Investment Institute, Chinese Academy of International Trade and Economic Cooperation at MOC, pointed out that against the great changes unseen in a century, China's economy is now deeply integrated into the world economy. Given China's own development needs, it is inevitable that the country will have to open up further, and foster a new development paradigm for opening up to the outside world in more areas and more sectors at a deeper level. Meanwhile, China has shown the world that it is willing to open up its vast market, work with others, share its development opportunities, and deliver win-win results.
-- Several parties are taking bigger strides to open up
The MOC revealed that China will open up the telecommunications, education, culture, medical services and other sectors in an orderly manner. It will actively promote coordinated development between domestic and external demand, imports and exports, as well as inbound and outbound investment. It will also accelerate the shift from opening up based on flows of products and factors of production to rule-based institutional opening-up, further driving China's opening up at a higher level.
In addition, the MOC and the NDRC have jointly commenced the revision of the 2021 negative list for foreign investment market access, which will entail further cutting of the negative list, and promoting wider opening up in areas such as the services industry. The MOC is actively promoting the release of the negative list for cross-border trade in services in conjunction with Hainan Province and relevant departments.
(Edited by Bao Nuomin with Xinhua Silk Road, baonuomin@xinhua.org)