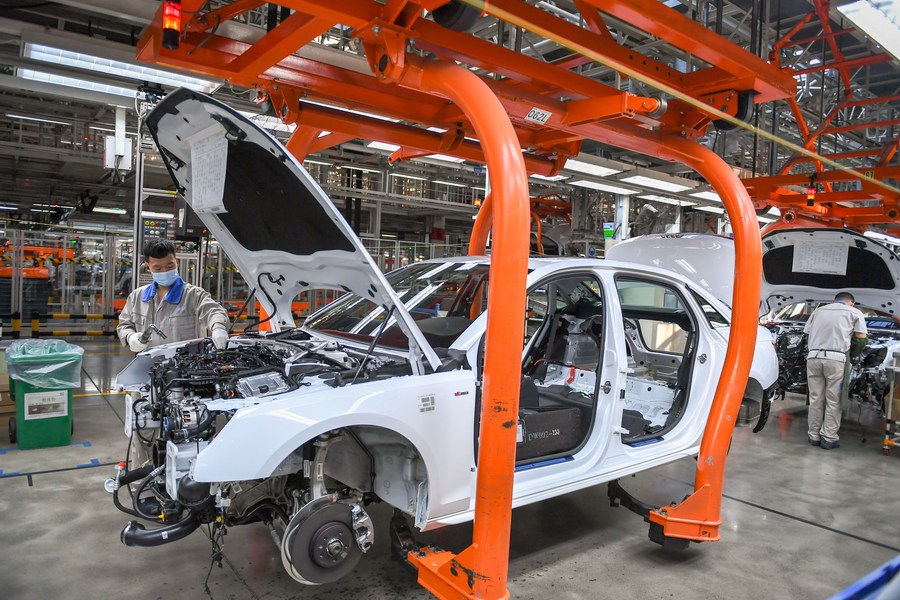 Workers assemble vehicles at the general assembly line of FAW-Volkswagen in Changchun, northeast China's Jilin Province, Jan. 5, 2021. (Xinhua/Zhang Nan)
CHANGCHUN, July 10 (Xinhua) -- China FAW Group Corporation, a leading motor vehicle producer in China, churned out nearly 1.8 million motor vehicles and sold over 1.9 million units in the first half of this year (H1), according to the company.
The company registered year-on-year increases of 10.8 percent and 20.4 percent in output and sales respectively.
In H1, output of its sedan brand Hongqi hit 148,227 units, surging by 112.5 percent from the same period last year. In the same period, 145,212 units of the brand were sold, representing a year-on-year increase of 107.3 percent.
Meanwhile, the group's joint venture FAW-Volkswagen witnessed its production and sales reach 908,211 units and 989,894 units in H1, up 1.9 percent and 17.2 percent year on year, respectively.
The output and sales of FAW Toyota, another joint venture of the group, hit 402,081 and 419,330 units, up 20.3 percent and 20.5 percent from H1 in 2020, respectively.
Founded in 1953 in the northeastern city of Changchun, capital of Jilin Province, FAW Group is seen as the cradle of China's auto industry. Enditem