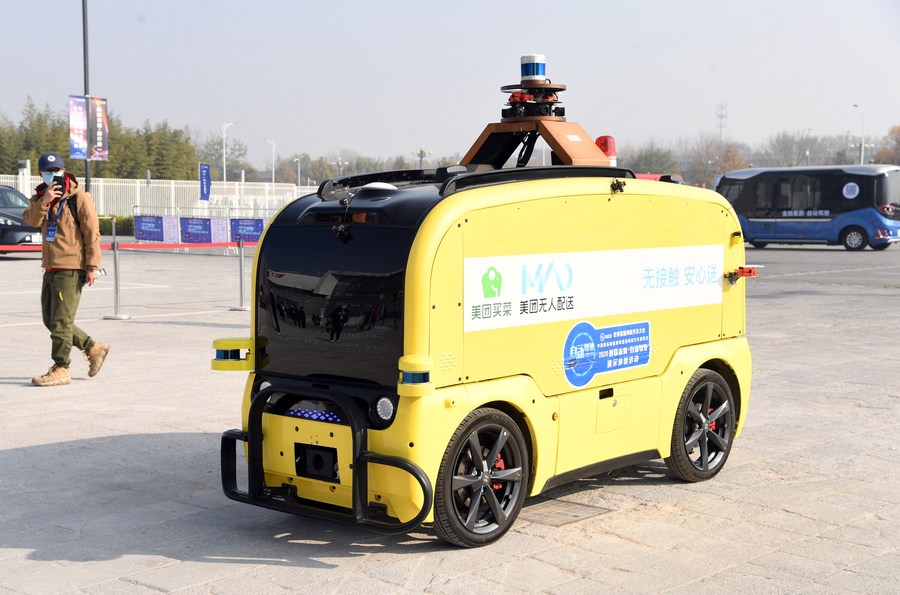 Photo taken on Nov. 12, 2020 shows an unmanned delivery car displayed at the 2020 World Intelligent Connected Vehicles Conference held in Beijing, capital of China. (Xinhua/Ren Chao)
BEIJING, July 8 (Xinhua) -- The Sino-German intelligent connected vehicles (ICVs) and smart city cooperation project jointly led by the China Academy of Information and Communication Technology (CAICT) and the German Association of the Automotive Industry (VDA) was launched in Beijing on July 2, reported Shanghai Securities News Tuesday quoting CAICT.
The project is an important measure to implement the joint declaration of intent on cooperation in the field of autonomous and connected driving signed by China and Germany in July 2018. Industry organizations and enterprises from both sides will explore new modes of application of ICVs under the cooperation.
Members of the project will carry out mass production application selection, solution design, model and ecological research of the cellular vehicle-to-everything (C-V2X) communication network, an ICVs technology. They will also explore the commercial use of C-V2X and form a white paper that has industry influence and guidance.
As follow-up, coordinated tests and verification will be carried out by combining the research results from the white paper and the needs of companies, so as to further promote the coordinated development of the ICVs and smart city industries of the two countries.
Chinese enterprises participating in the project include Beijing Automotive Group Co., Ltd. (BAIC Group), Guangzhou Automobile Group Co., Ltd. (GAC Group, 601238.SH, 02238.HK), GOHIGH Data Networks Technology Co., Ltd. (000851.SZ), Huawei, China Information and Communication Technology Group Co., Ltd. (CICT), China Industry Innovation Alliance for the Intelligent and Connected Vehicles (CAICV), China Intelligent and Connected Vehicles (Beijing) Research Institute Co., Ltd. (CICV) and Tencent.
German enterprises participating in the project include DaimlerAG, Volkswagen AG and Robert Bosch GmbH.
(Edited by Wang Yuhang, Gu Shanshan with Xinhua Silk Road, gushanshan.1987@163.com)