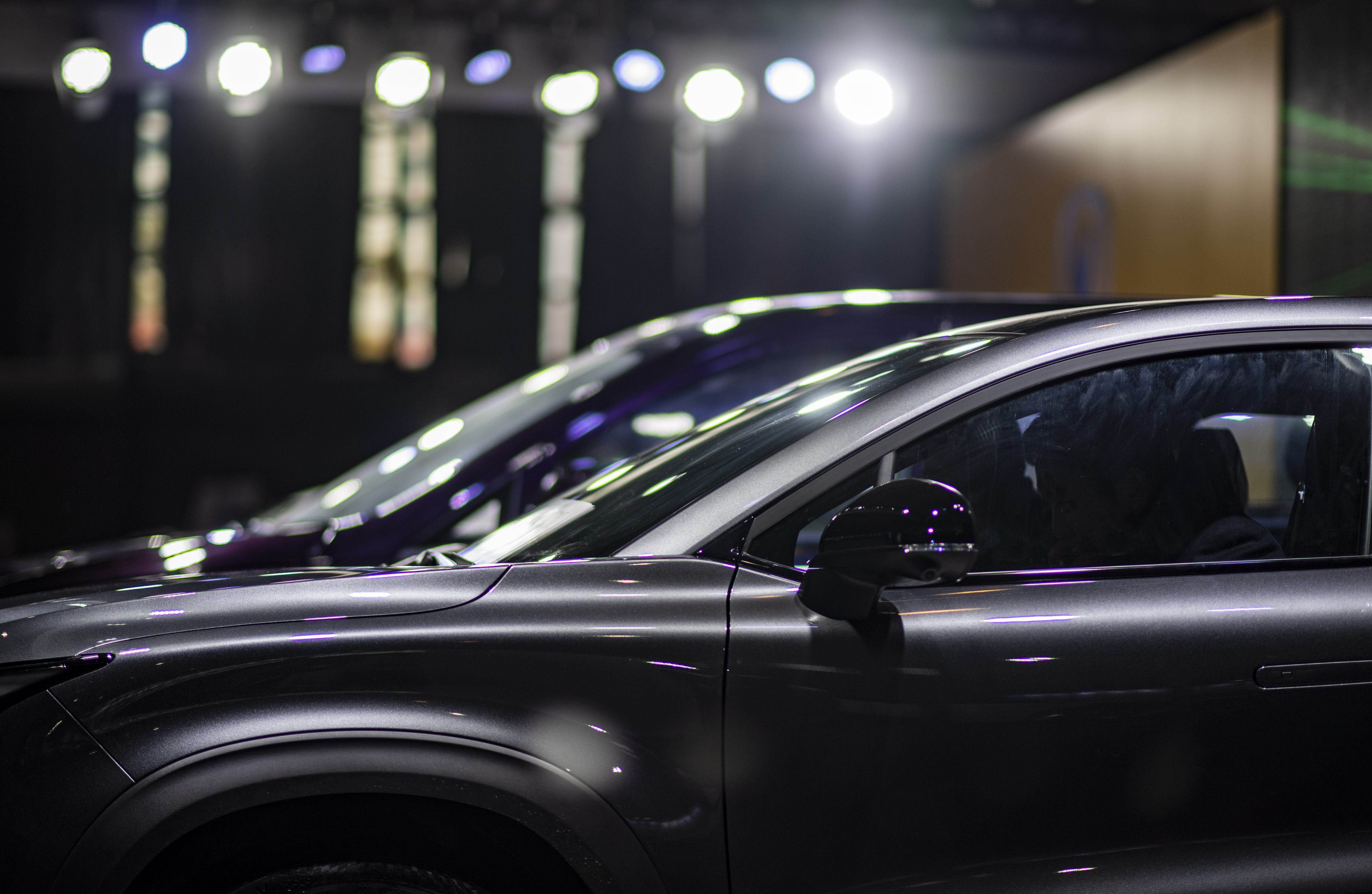 Photo taken on Dec. 4, 2020 shows new energy vehicles (NEVs) during a promotional activity for NEVs in rural areas held in Kunming, southwest China's Yunnan Province. (Xinhua/Jiang Wenyao)
BEIJING, July 8 (Xinhua) -- With China's ongoing efforts towards the goal of peaking carbon emissions by 2030 and achieving carbon neutrality by 2060, domestic auto industry also accelerates transformation towards greener and more sustainable development.
Great Wall Motor Company Limited (GWM), a leading auto company in China, announced on June 28 that it will realize carbon neutral by 2045, becoming the first auto firm to specify a carbon neutrality timetable in China. GWM also said it would have its first zero-carbon plant and establish a recycling system for the auto industry by 2023.
"Carbon neutrality assessment has been applied to the steel and cement industries. The auto industry so far is not subject to the assessment but will definitely be in the near future," said Zhang Xiang, researcher of the Institute of Automobile Enterprise Management and Innovation, North China University of Technology.
-- Carbon mission for auto
Auto firms in the domestic market have joined the carbon campaign in response to China's goal of peaking carbon emissions and carbon neutrality, with multinational companies such as Volkswagen, Nissan, BMW, Daimler, Porsche, Hyundai and Tesla, as well as Chinese companies including Geely and GWM, voicing out their strategic carbon adjustments.
Multinational auto companies have come up with their carbon neutrality timetables. Nissan, for instance, plans that the group's business operation and product lifespan will be carbon neutral by 2050, and all its new vehicle models in core markets will be electric by early 2030. Volkswagen aims for carbon neutrality by 2050 through product lifespan emission reduction. Benz will not sell traditional internal combustion engine passenger cars by 2039 till when all its passenger cars will be carbon neutral. Porsche is trying to be carbon neutral throughout its value chains by 2030.
Among domestic auto companies, GWM has specified its carbon neutrality timetable saying it will become carbon neutral by 2045. Specifically, by 2023, GWM will have its first zero-carbon plant and establish a recycling system for the auto industrial chain. By 2025, the company will hit the annual sales of 4 million vehicles around the globe, with new energy vehicles (NEVs) accounting for 80 percent.
Other domestic auto companies, though haven't given exact timetables, are on the move for emission reduction. BYD announced this February this year that it has started corporate carbon neutrality research and explored upon carbon footprint standards for the NEV industry. Geely is a forerunner in the fields of shared mobility, lithium battery echelon utilization, recharge/replacement infrastructures, carbon cycling production of methanol and other innovative business modes and frontier technologies aiming to promote carbon neutrality throughout the new energy industrial chain.
Hu Qimu, chief researcher of Sinosteel Economic Research Institute, told that the development of new energy power system and the application of AI system could both help with vehicles' carbon emission reduction. However, he notes that in terms of carbon reduction by auto production process and emission reduction by vehicles, what has been done is far from enough. So far there is no inter-industry coordination mechanism for carbon reduction, he said, calling for system design at a macro level to set forth rigid and effective restrictions on carbon reduction over industries as a whole.
-- Carbon mission for auto chain
For auto companies, carbon neutrality through the production process means not only producing NEVs, but also reducing emission along the whole industry chain.
The auto industrial chain stretches long upstream and downstream, involving various sectors such as energy and materials, making carbon neutrality of the auto industry a huge systematic project. Yang Dayong, general manager of Changan EV, took carbon calculation for a fuel-powered SUV as an example, through product lifespan, auto part production takes up 14 percent, assembly process 1 percent, fuel production 9 percent, and fuel consumption 76 percent.
Carbon reduction shall not be done individually by auto companies, Hu Qimu said, suggesting that carbon cut should be realized through chain synergy to create greener industrial ecology.    
It should also be noted that as NEVs become popular, power battery recycling and utilization becomes an industrial challenge. According to industrial insiders, the lifespan emission regulation over electric vehicles covers not only the user-end but also the entire chain of battery production and disposal.
To this end, GWM has established battery recycling system to recycle used batteries as well as rejected batteries and waste materials in the production process, according to Mu Feng, vice president with GWM.
The recycled things will be disassembled and crushed to extract sulfate and lithium carbonate as the raw material for precursors and anodes. This is a closed loop of recycling that helps healthy industrial development and is an effective solution for battery safety, residual value and recycling, he introduced.
Chen Xuesong, president of FTXT, a subsidiary of GWM, stressed that NEVs must use clean electricity. A thermal power-driven EV is not a real clean product. The company is working on new-type solar technologies to get ready for entering the clean energy area. Its perovskite solar PV technology, for example, now allows a world-record 20 percent photoelectric conversion.
-- Hydrogen energy crucial for carbon neutrality
As decarbonization and zero-carbon have become global consensuses, hydrogen power, another approach to new energy and even believed to be the "ultimate clean energy", comes into view.   
"NEV has made auto industry an active participant in carbon reduction. Along with the great development of renewable energy in the future, hydrogen energy will play an important role," said Yu Zhuoping, professor of Tongji University and director of the Collaborative Innovation Center of Intelligent New Energy Vehicle.
Compared with Europe and America, China doesn't have much time left for its carbon goals. For China, to peak carbon emission, hydrogen is an option; while to become carbon neutral, hydrogen is a must, said Chen Xuesong.
Auto companies have reached a consensus that hydrogen energy plays an irreplaceable role in realizing the carbon goals, thus actively making plans for the hydrogen fuel sector.
In 2020, SAIC Motor published the industry's first "hydrogen strategy", saying it will achieve four great goals by 2025, i.e. at least ten hydrogen-powered fuel cell electric vehicles (FCEVs) , 10-billion-yuan market value of Shanghai Hydrogen Propulsion Technology Co., Ltd. (SHPT), a fuel cell R&D and operation team of over 1,000 team members, and the production and sales capacity of 10,000 FCEVs that takes over 10 percent of market shares.
GWM is also working on a low-cost hydrogen power solution and developing a highly efficient, nearly zero-pollution hydrogen internal combustion engine. GWM plans to launch its first full-size hydrogen battery sedan in 2023.
Geely, Chery and Dongfeng are also working on hydrogen-powered FCEVs.
For the auto industry, hydrogen energy is not only a matter of battery. How to shape the hydrogen energy ecology makes greater sense.
The industry has always been trying to figure out how to shape the ecology of hydrogen energy, according to Chen Xuesong, noting that it's not expensive to make hydrogen but should work more on the total cost of hydrogen storage-transport-refill.
(Edited by Niu Huizhe with Xinhua Silk Road, niuhuizhe@xinhua.org)