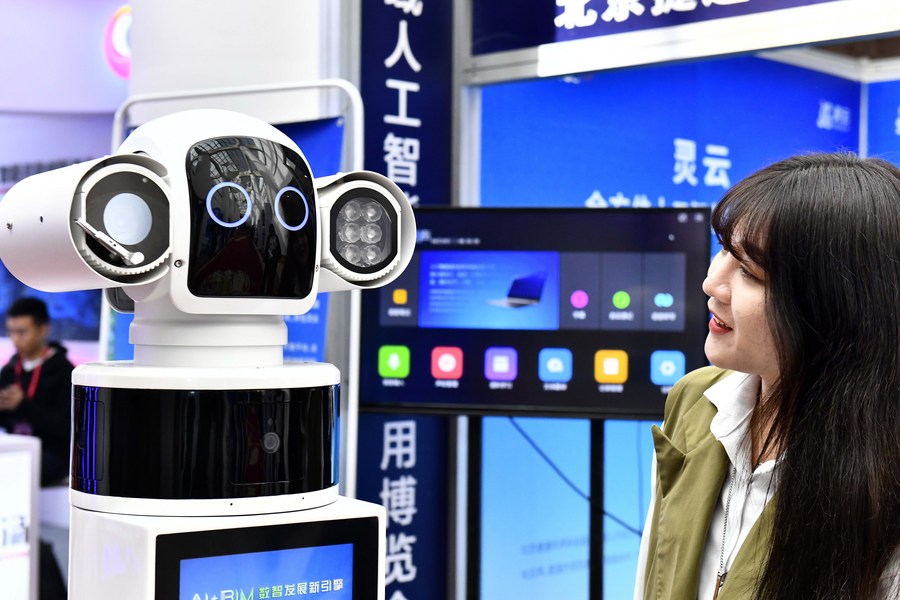 An attendee interacts with a robot during the 1st Summit of Jinan National Artificial Intelligence Innovation and Application (JNAIIA) Pilot Zone & the Exposition of Artificial Intelligence Innovation and Application on Yellow River Basin in Jinan, east China's Shandong Province, April 19, 2021. (Xinhua/Guo Xulei)
BEIJING, July 1 (Xinhua) -- As China's digital economy plays an increasingly important role in the national economy, more rapid digital transformations will be seen in various industries, indicating enormous investment opportunities in the field.
-- Dynamic digital economy in China
The scale of China's digital economy reached 39.2 trillion yuan (about 6 trillion U.S. dollars) in 2020, accounting for 38.6 percent of the GDP, which effectively supported epidemic prevention and control, as well as economic development, said a white paper on China's digital economy development released by the China Academy of Information and Communication Technology (CAICT) in April.
Last year, 13 provinces, municipalities and autonomous regions achieved a digital economy scale of more than one trillion yuan, with another eight regions exceeding 500 billion yuan in 2020, said the paper.
The development of China's digital economy depends on the support of policies, market and consumers.
"Chinese consumers are willing to accept brand-new digital products, and the demand for digital products is strong," said Pan Helin, executive dean of the Institute of Digital Economy, Zhongnan University of Economics and Law.
Data showed that China's online retail sales reached 11.8 trillion yuan and the mobile payment transactions reached 432.2 trillion yuan in 2020, both ranking first in the world.
Besides, the country also highlights the digital economy development in its 14th Five-Year Plan (2021-2025) to build a digital China.
Most importantly, thanks to the efforts made by market players, cutting-edge technologies such as 5G, big data, cloud computing and artificial intelligence (AI) have underpinned the development of digital economy.
-- Cutting-edge technologies on fast track
In the era of digital economy, the new infrastructure, including 5G, big data and artificial intelligence, has become the cornerstone of the development, according to Topsperity Securities.
China has showed significant advantages in these key technologies with the fastest growth among all countries in terms of the construction of 5G base stations and AI application, said Pan.
Take the 5G development as an example. 5G technology is the basic infrastructure for digital transformation, and China takes the lead in the development of 5G in the world, according to CITIC Securities.
Data from the Ministry of Industry and Information Technology (MIIT) showed that China's 5G network construction has been on fast track, with about 850,000 5G base stations in place, forming the largest independent 5G network in the world.
5G-related investments made by China's three major telecommunication operators reached a record high in 2020, with China Mobile investing 102.5 billion yuan and China Unicom and China Telecom investing 73.2 billion yuan in total.
This year will be a key juncture for 5G's commercial use as new standards and technologies continue to be created and upgraded, said GF Securities, adding that more deeper integrations will be seen between 5G messaging and other application scenarios.
-- Digital transformation to be accelerated
According to Pan, efforts made by the high-tech enterprises help China establish a more complete industrial system and move up to the medium-high end of the global industrial chain. New opportunities have thus emerged for the in-depth development of industrial digitalization.
Data from CAICT showed that the digital economy in China's service sector, industry and agriculture accounted for 40.7 percent, 21.0 percent and 8.9 percent of their added value in 2020, respectively, indicating that the industrial digital transformation is speeding up and the integrated development is evolving to a deeper level.
Enterprises will embrace the trend of digitalization to improve core competitiveness, thus spurring major investment opportunities amid the integration process, according to CITIC Securities.
(Edited by Li Shimeng with Xinhua Silk Road, lishimeng@xinhua.org)