BEIJING, June 28 (Xinhua) -- Foreign trade of east China's Anhui province with Belt and Road countries amounted to 66.55 billion yuan in January-May of 2021, an increase of 44.3 percent over the same period last year, statistics from local customs showed.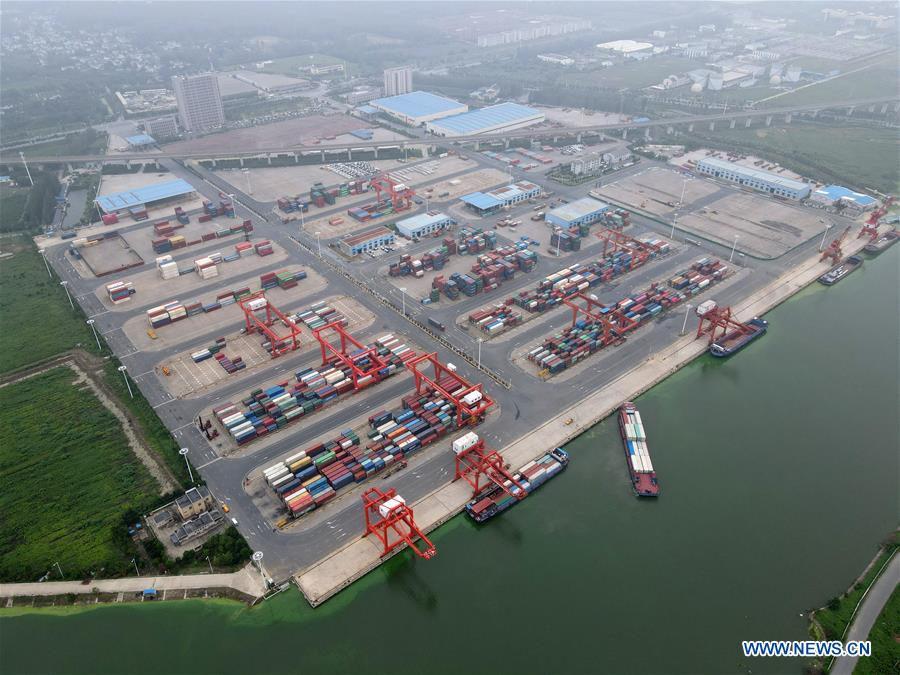 Aerial photo taken on Aug. 21, 2020 shows a view of the International Container Terminal of Hefei Port in Hefei, east China's Anhui Province. The Hefei Port resumed operation in recent days as the water level of the Chaohu Lake and the tributaries receded. (Xinhua/Zhou Mu)
Specifically, export value of the province was 48.02 billion yuan, an increase of 39 percent while import value was 18.53 billion yuan, an increase of 60 percent.
In May alone, Anhui's trade with B&R countries were 14.12 billion yuan, an increase of 44.6 percent on year. Among them, general trade accounted for nearly 80 percent, driving the overall import and export growth.
In May, import and export value of processing trade was 2.17 billion yuan, an increase of 48.2 percent.The export of goods of foreign contracted projects was 220 million yuan, an increase of 356.8 percent.
In May, Anhui exported 6.55 billion yuan worth of mechanical and electrical products to B&R countries, a year-on-year increase of 45.2 percent, accounting for 62.8 percent of total goods exports.
(Edited by Bao Nuomin with Xinhua Silk Road, baonuomin@xinhua.org)