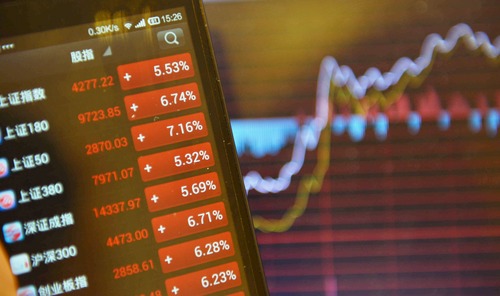 BEIJING, June 25 (Xinhua) -- About 61.17 percent or 315 firms of the 515 China A-share companies are expecting optimistic financial results in the first half of this year, reported Xinhua-run Xinhua Finance Thursday.
Among them, 66 firms believed to see their 6-month profits up slightly and 64 ones forecast they would return to profitability by the end of June. Another four companies thought that they would continue to profit and the remaining 181 ones foresaw hefty growths in profits from January to June.
For A-share listed companies in steel, chemical, and textile industries which are closely affected by the macro-economic cycle, they generally anticipated notable profit growths in the first half of 2021 thanks to ongoing economic recovery.
Statistics with Wind, a financial data provider in China showed that among the 515 firms that have released their semiannual financial results by Wednesday, firms with net profit growths projected to exceed 10 percent, 50 percent and 100 percent numbered 194 ones, 153 ones and 107 ones respectively.
In steel industry, analysts attributed the A-share listed steel companies' profits growth to robust demand and high steel prices. Thanks to the improved operating rates for infrastructure and real estate projects, A-share listed steel companies mostly enjoyed notable growths in output and sales.
For instance, Angang Steel Co., Ltd. (000898.SZ), a large steel producer in China, expected to reap 4.8 billion yuan of net profits in the first six months of this year, an increase of 860 percent year on year.
For chemical industry, price surge of chemical products caused by surging raw material prices and recovering downstream demand drove many listed chemical firms into full-capacity production and resulted in their high growth momentum in the first six months.
Zibo Qixiang Tengda Chemical Co., Ltd. (002408.SZ), a chemical producer headquartered in Shandong Province, east China, predicated to pocket 1.426-1.640 billion yuan of net profits from January to June, an increase of 200-245 percent year on year.
By far this year, the company said prices of its major products such as methyl ethyl ketone, maleic anhydride, and nitrile latex maintained at high levels and taking advantage of the price rise, the company cranked up efforts to boost sales and resorted to raw materials purchasing via more foreign channels to offset influences from higher costs.
In textile industry, many homegrown brands chose to close loss-making stores and adopted a series of measures to boost sales. Based on the low comparable data in the first half of 2020 and surging interest in brands and products that incorporate Chinese traditional style and culture among Chinese young consumers, many listed textile companies posted bright semiannual results forecasts.
Exuberant over the news, many listed firms saw their stock prices up by close on Wednesday and Thursday.
Yang Delong, chief economist with First Seafront Fund, suggested that investors could pay attention to opportunities hidden in sectors benefiting from China's economic transformation such as consumption, energy and sci-tech style internet. (Edited by Duan Jing with Xinhua Silk Road, duanjing@xinhua.org)