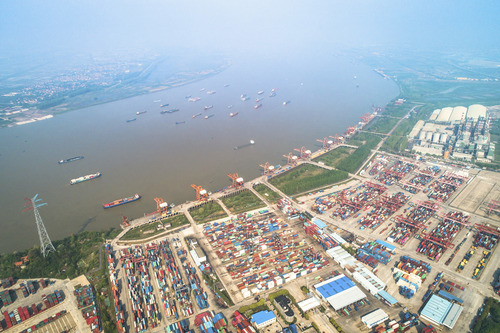 Aerial photo taken on April 12, 2020 shows a view of the Yangluo Portin Wuhan, central China's Hubei Province. (Xinhua/Xiao Yijiu)
BEIJING, June 24 (Xinhua) – Wuhan, capital of central China's Hubei Province, has recently opened a new rail-sea intermodal freight route linking the city with Japan and Mongolia, reported Hubei Daily Wednesday.
A cargo ship carrying 14 containers of 28 imported vehicles arrived at Wuhan Port from Nagoya, Japan on June 18, when another cargo ship loaded with 36 containers of 72 imported cars set off from Japan for Wuhan on the same day.
The total 100 units of vehicles carried by the two cargo ships are expected to be transitted to the China-Asia freight train in Wuhan heading for Ulan Bator, Mongolia by the end of June, which will mark the official opening of the intermodal route.
With a total length of more than 5,000 kilometers, the new intermodal freight route has shortened the journey between Japan, Wuhan and Mongolia to 20 days from the original 25 days.
It is noted that the journey of the route is expected to be further shortened to about 17 days after the second phase of the Wuhan port rail-sea intermodal transport project is put into operation.
According to the port operator, the new intermodal freight route featuring timely, stable operation and lower logistic costs will help Wuhan improve the comprehensive transport capacity and boost opening-up further.
Launched in 2019, the direct container shipping route linking Wuhan and Japan is the first international direct water transport route along the middle and upper reaches of the Yangtze River. In the first five months of the year, a total of 2,799 containers on 36 trips were transported along the route.
(Edited by Jiang Feifan with Xinhua Silk Road, 346129473@qq.com)