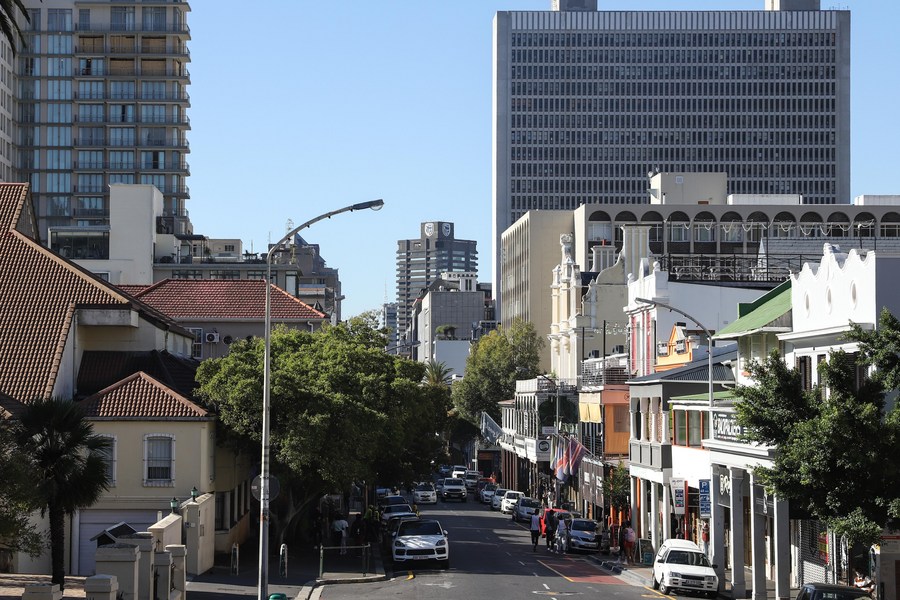 Photo taken on May 1, 2021 shows a view of the central business district, Cape Town, legislative capital of South Africa. (Xinhua/Lyu Tianran)
BEIJING, June 11 (Xinhua) -- Speedaf, a joint venture in logistics invested by Chinese leading express enterprises, on Tuesday announced the completion of the A+ round of financing, which stands at hundreds of millions of yuan, to build itself the No.1 China-Africa express brand, reported Securities Daily recently.
The fund will be used for overseas network expansion, IT system construction and talent cultivation.
Established in 2019 with ZTO Express (NYSE: ZTO, 02057.HK) as one of its original shareholders, Speedaf focuses on cross-border door-to-door logistics services between China and Africa, the Middle East, South Asia, and other emerging markets. It also provides services such as express delivery, less-than-truck load (LTL) transportation, and overseas warehouses.
By using its self-built service network and information technology platform, Speedaf can provide customers with one-stop, full-process visualized, door-to-door integrated logistics service solutions, and its cross-border air and sea freight services can reach more than 50 countries.
Under a localized operating model, Speedaf has established local express and LTL networks in Ghana, Uganda, Kenya, Nigeria and Morocco, with multiple distribution centers, outlets and warehouses.
Suo Chao, Chief Executive Officer (CEO) of Speedaf, said that the company is very optimistic about the development prospects of China-Africa cross-border logistics and local logistics business in Africa, and is committed to bringing the advanced management concepts and operating models of China's express delivery industry to Africa.
According to Suo, Speedaf has built a terminal ecosystem through "self-operating plus franchising" to better serve e-commerce platforms and sellers, and help more enterprises expand business in emerging markets.
In recent years, the logistics market in Africa has grown rapidly as a result of the acceleration of urbanization, the development of new distribution channels such as e-commerce, and the growth of the fast-moving consumer goods retail industry.
Data shows that the e-commerce market in sub-Saharan Africa is expected to grow at a compound annual growth rate of about 22 percent.
With the increasing input from global capital and e-commerce players, the African e-commerce market is expected to enter a period of faster development, which will bring more demand in logistics. Particularly, the official launch of the African Continental Free Trade Area (AfCFTA) on January 1, 2021, will improve the convenience of the circulation of goods in Africa as a whole, promote more African countries to integrate into the regional and global value chains, and add new impetus and vitality to the social and economic development of Africa.
With the deepening of China-Africa economic and trade cooperation, globalization and technological development will create more new opportunities for the logistics industry in Africa. Speedaf eyes to further consolidate its leading position in China-Africa express delivery by increasing technological input and growing together with partners.
(Edited by Wang Yuhang, Gu Shanshan with Xinhua Silk Road, gushanshan.1987@163.com)