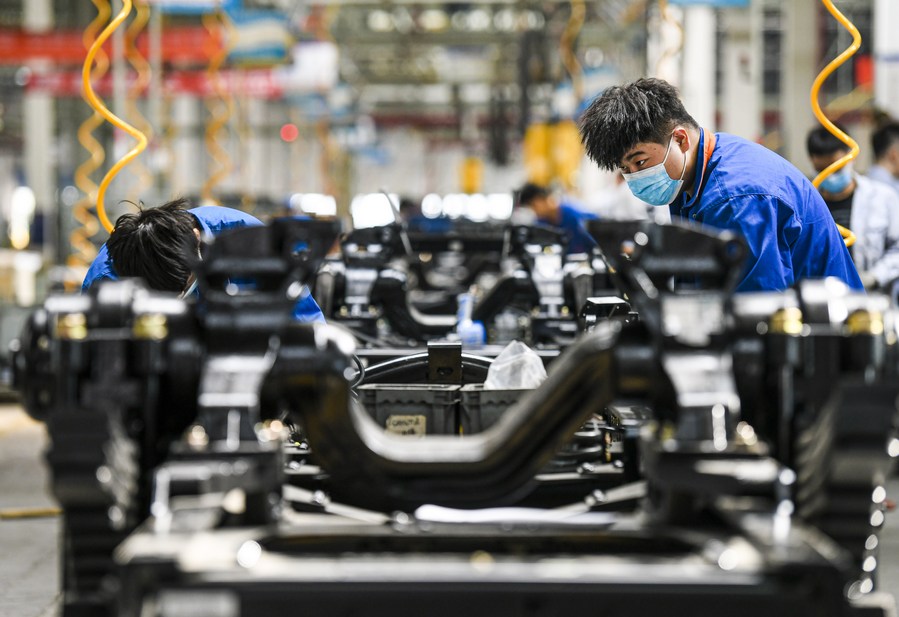 Workers are busy at the production line of Shaanxi Auto Xinjiang Automobile Co., Ltd. in Urumqi, northwest China's Xinjiang Uygur Autonomous Region, Sept. 24, 2020. (Xinhua/Wang Fei)
HEFEI, June 10 (Xinhua) -- In his 18th year of working and living in China, Michael Steenbock, a 61-year-old automotive engineer of Volkswagen Anhui, received in April the highest award that east China's Anhui Province confers on foreign experts for their outstanding contribution.
With his experiences in the Shanghai Automotive Industry Corporation (SAIC) Volkswagen and Volkswagen Group China, Steenbock came to work in Hefei City, capital of Anhui Province, in May 2019, leading a team devoted to the R&D of New Energy Vehicle (NEV) interiors such as control panels, seats, airbags, etc.
"The automotive industry worldwide as well as in China is facing a great period of transformation. It is clear that NEVs are the future of the auto industry, and China is the world's largest NEV market," said Steenbock.
Having lived in China for almost two decades and married a Chinese woman, Steenbock is just one witness of how China's auto industry has evolved over the past decades.
When China opened its doors to the global market in 1978, a motor car was still a novelty and would often draw a large crowd on the road. Back then, a bicycle was an imposing object in many file photos when the country's per capita GDP was just 385 yuan, about 46 U.S. dollars at that time. In 2019, China's GDP per capita surpassed 10,000 U.S. dollars.
But the two-wheelers were quickly replaced by motor vehicles as investment poured in, production lines roared and people's pockets swelled. Now China has maintained the top player both in auto manufacturing and sales, and car is almost a household necessity.
As of June 2020, China had 360 million motor vehicles, including 270 million cars, 68.9 million motorcycles and 4.17 million new-energy cars, according to data from the Ministry of Public Security.
China's automotive aftermarket, which includes transactions and services following the sales of cars, was valued at more than 1 trillion yuan (about 156.3 billion U.S. dollars) in 2020, the Ministry of Commerce said.
As more traditional automakers are transitioning from being purely manufacturers toward being mobility service providers, China, which remains as one of the hottest investment destinations, still counts on the layout of big auto brands such as Volkswagen.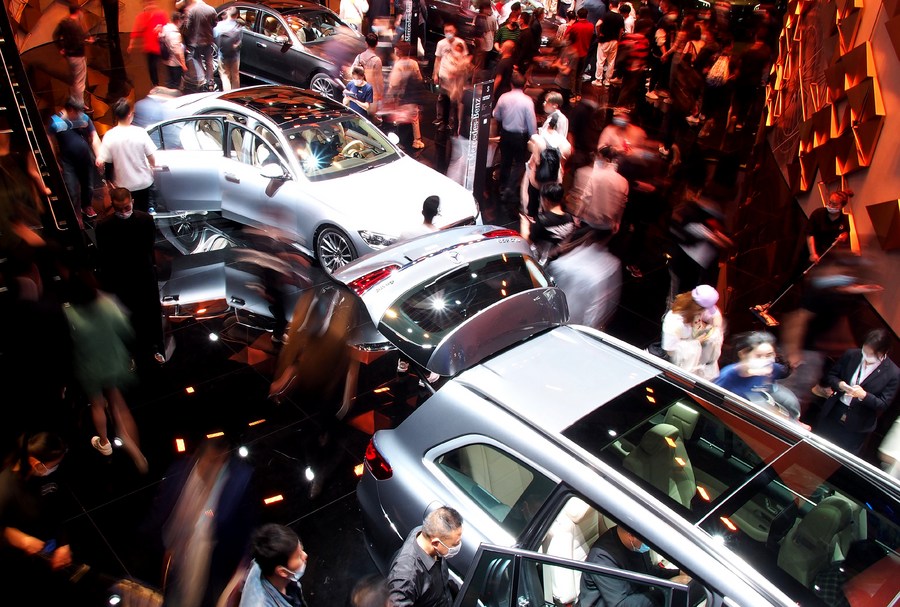 Visitors visit the 19th International Automobile Industry Exhibition (Auto Shanghai 2021) in Shanghai, east China, April 28, 2021. (Xinhua/Chen Fei)
In 2020, Volkswagen Group increased its shareholding in Volkswagen Anhui to 75 percent, setting to make the Anhui plant a hub for e-mobility innovation.
Apart from R&D work, Steenbock also participates in a talent training program, in which young engineers are expected to build a bridge between Chinese and German auto industries.
A recruitment campaign is now underway, with the aim to recruit 45 students with engineering backgrounds onto the team. After one year of intensive training at Volkswagen headquarters in Germany, these young talent will work at Volkswagen Anhui as on-site engineers.
"Germany has a long tradition of pioneering in the automobile industry. China is one of the most dynamic markets worldwide at present. Talent from both countries can build up their own network within the company and widen their horizon by visiting and working as a member of the local team in the other country," said Steenbock.
Steenbock, who has seen China as his hometown, is also a witness to the urban development and modernization in China.
"I don't think there is another place in the world that has gone through so many positive changes in such a short period of time," said Steenbock. "The infrastructure is continuously improved. High-speed trains connect so many cities and towns, bringing people to their destinations with super convenient service. No matter in cities or in the countryside, I can see that the landscape is getting more and more green."
Now Steenbock has planned for his next five years in China. "My target is to support the company to build a strong local team which is dedicated to the long-term development of the Chinese automobile industry," said Steenbock.
As for himself, he would love to explore more beautiful places in Anhui and learn more about local culture and people. ■