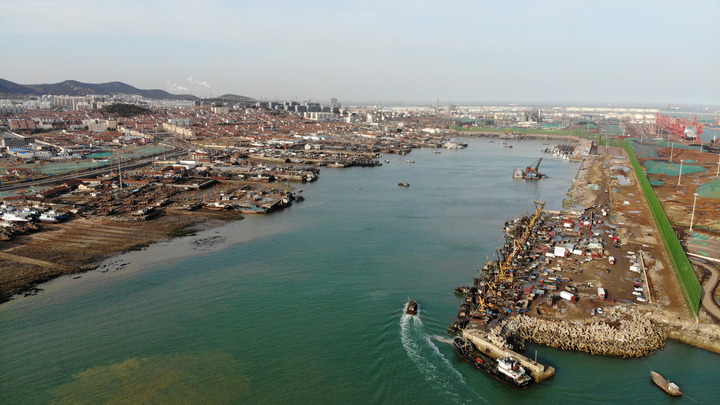 Aerial photo shows boats loaded with mussels sailing ashore at a portin Rizhao, east China's ShandongProvince, March 3, 2021. (Xinhua/Wang Kai)
BEIJING, June 8 (Xinhua) – East China's Shandong Province has released a development plan pledging to build green and low-carbon ports that will take the lead at home and abroad by 2025, local newspaper reported Monday.
According to the plan, Shandong Province is expected to make preliminary achievements in optimizing the energy structure, transportation structure, low-carbon operation, and environmental governance of its ports by 2025.
To be specific, efforts to optimize the energy structure will focus on promoting the use of clean energy in ports as an essential measure to control traditional fossil fuels strictly.
Shandong will also promote multimodal transport and give priority to green transportation for loading cargoes at ports.
In terms of optimizing the port structure, Shandong will promote the integrated development of the province's four major ports such as Qingdao Port, vowing to form a transport system with high efficiency, quality services and reasonable costs.
Priorities will also be given to the pollution control of ports. Shandong will sharply reduce energy and water consumption and change the methods of resource utilization by improving the efficiency of terminal operation and port traffic.
Meanwhile, Shandong Province will apply an intelligent energy control system and intelligent air environment control system to the ports.
In addition, Shandong sets 22 specific targets to strengthen the construction of green and low-carbon ports. For example, Shandong's four major ports are expected to achieve an annual growth rate of 10 percent in the rail and waterway multimodal containerization.
(Edited by Jiang Feifan with Xinhua Silk Road, 346129473@qq.com)