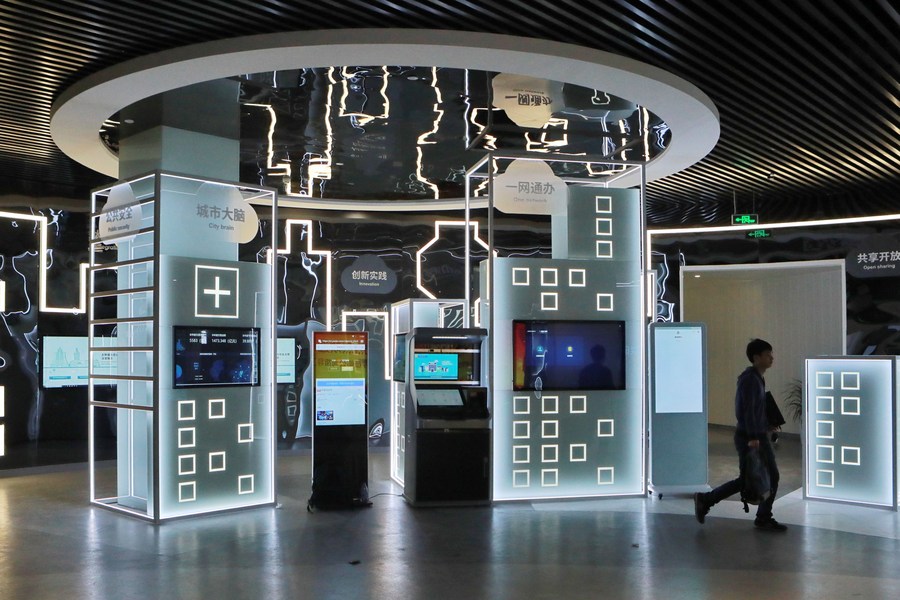 File photo shows a visitor tours a display center of the National Big Data Comprehensive Pilot Area in southwest China's Guizhou Province, May 22, 2019. (Xinhua/Ou Dongqu)
BEIJING, June 8 (Xinhua) -- China has recently issued a guideline on promoting the application and development of blockchain technology, proposing to forge 3-5 blockchain development clusters by 2025, reported Securities Daily Monday.
The guideline, jointly released by the Ministry of Industry and Information Technology and the Office of the Central Cyberspace Affairs Commission, puts forward to make the blockchain industry begin to take shape by 2025 with its comprehensive strength reaching the world's advanced level.
It also proposes to cultivate a batch of well-known products in product traceability, data circulation, supply chain management and other fields, as well as 3-5 backbone enterprises with international competitiveness, and a group of innovation-leading enterprises.
It targets to realize the deep integration of blockchain with the internet, big data, artificial intelligence (AI) and other next-generation information technologies, as well as the application of blockchain technology in various fields, and make blockchain an important support for building a manufacturing and network power, developing the digital economy, and modernizing China's governance system and capacity by 2030.
The guideline sets out two key tasks. One is to give play to the role of blockchain in optimizing business processes, reducing operating costs and building trusted systems to support the digital transformation and high-quality development of supply chain management, product traceability, data sharing and other real economy fields.
The other is to promote the application of blockchain technology in government services, evidence collection, smart cities and other public service fields, and accelerate application innovation to ensure transparent, equal and precise public services.
In order to cement the foundation of the blockchain industry, the guideline proposes to establish a blockchain standard system, strengthen technological breakthroughs in key areas to build the underlying platform of blockchain, encourage enterprises to strengthen quality management and build a quality assurance system for blockchain products and services, enhance the security and protection capacity building of blockchain infrastructure and services, and foster a batch of high-value patents, trademarks, and software copyrights.
(Edited by Gu Shanshan with Xinhua Silk Road, gushanshan.1987@163.com)