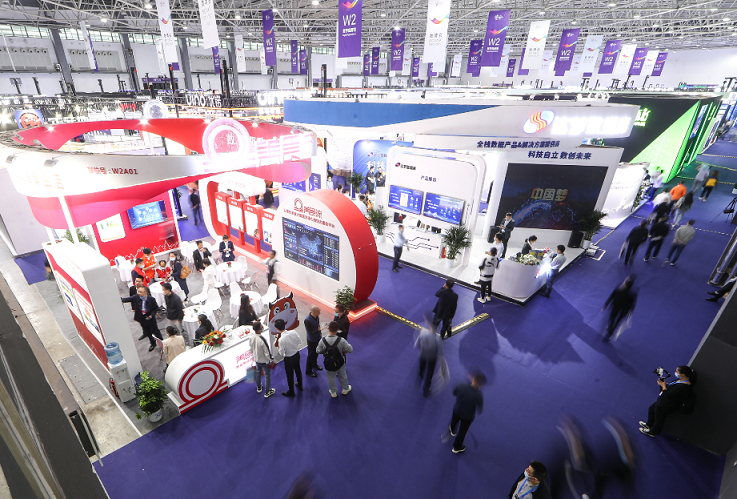 People visit the China International Big Data Industry Expo 2021 in Guiyang, southwest China's Guizhou Province, May 26, 2021. (Xinhua/Ou Dongqu)
BEIJING, June 3 (Xinhua) -- Digital industry in China is accelerating development, with the added value of the core industries of the digital economy accounting for 7.8 percent of the country's GDP, the Xinhua-run Economic Information Daily quoted a report as saying on Thursday.
The report was released at China International Big Data Industry Expo 2021 which was held in Guiyang, capital of southwest China's Guizhou Province in late May.
Industry insiders said that the implementation of the digital scenes and rapid expansion of the digital industry have opened up new space for the development of the network security industry.
Efforts should be made to strengthen the network security, improve the level of network security assurance, and reinforce the capability of protecting the national critical data resources, according to Diao Yigang, an official of the Cyberspace Administration of China (CAC).
It is worth noting that China is witnessing the urbanization and digitalization, which is expected to bring huge potential. At present, the big data industry in China is deeply integrated with the real economy. Data has been integrated into the process of economic value creation along with other factors, and has a wide-ranging impact on the development of productivity, said Yan Li, president of Venustech, a leading provider of network security products in China.
If new security threats cannot be dealt with, the faster digitalization runs, the greater the risk of security will be. Therefore, corresponding network security prevention and control systems must be established at the different levels, said Zhou Hongyi, founder and chairman of 360 Security Technology.
Zheng Junfang, chief risk officer of Alibaba Group, said that digitization means generating large amounts of data, and data becomes a basic production factor. The strong fluidity and non-uniqueness of data makes the entire data security boundary expand indefinitely, posing a very big challenge to data security. (Edited by Hu Pingchao with Xinhua Silk Road, hupingchao@xinhua.org)