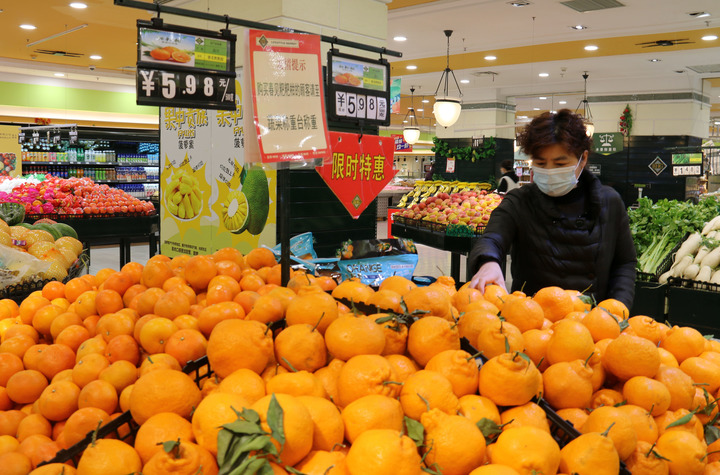 People select food at a supermarket in Nanjing, east China's Jiangsu Province, March 10, 2021. (Photo by Sun Zhongnan/Xinhua)
BEIJING, June 3 (Xinhua) -- East China's Jiangsu Province witnessed its major economic indicators concerning with industry, investment and consumption maintain rapid growth of recovery in the first four months of the year, according to local authorities.
The industrial added value of the enterprises above the designated size increased by 27.5 percent year on year during the January to April period, among which the advanced manufacturing industry showed a strong growth especially in the high-tech sector with a year-on-year growth of 29.4 percent.
In the first four months, Jiangsu saw its fixed asset investment pick up 15.5 percent from a year earlier. Specifically, 2,157 major projects in Jiangsu each attracted more than 1 billion yuan of investment during the period, an increase of 30.6 percent year on year.
Data showed that Jiangsu's total sales of consumer goods increased 35.2 percent year on year in the first four months. Among them, the fast growth in retail sales mainly composed from goods categories including automobile retail, clothing textile, household appliance and audio-visual equipment, gold, silver and jewelry.
(Edited by Jiang Feifan with Xinhua Silk Road, 346129473@qq.com)