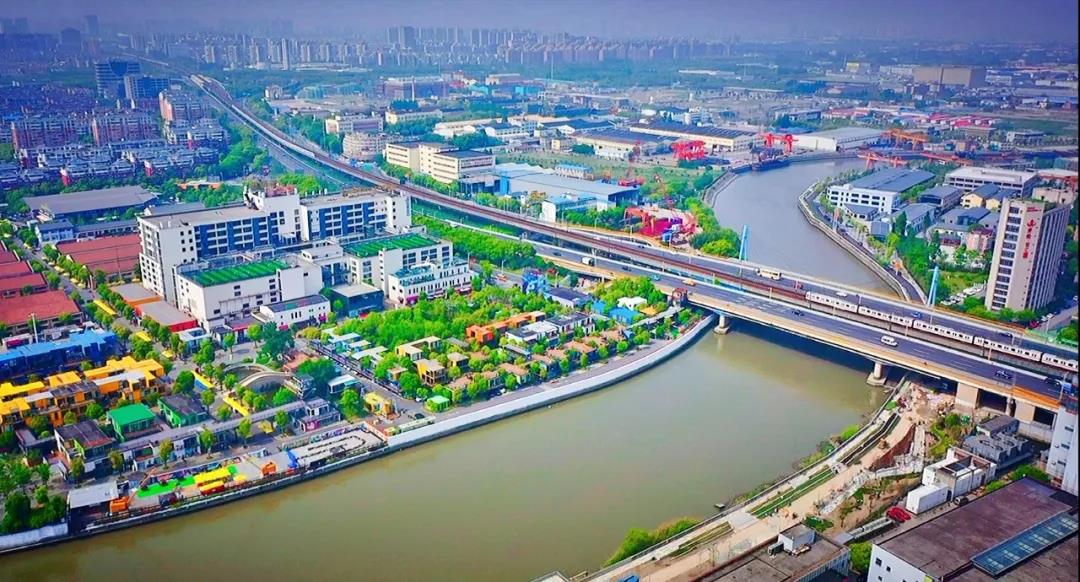 Photo shows the view of the Wenzaobang River in Baoshan District in Shanghai.
BEIJING, May 26 (Xinhua) -- To support Shanghai's construction of a science and technology innovation center, Baoshan District of the city in east China held a walking activity on Tuesday.
The walking activity, started from the beginning of Wenzaobang River and ended at Wusong Kaibu Memorial Square in Baoshan District, showed the 100 years of historical change of the region.
Wenzaobang River, starts from Wusong River in the west and enters the Huangpu River in the east, has a total length of 36.1 kilometers. In Baoshan District, the river has a length of 15.6 kilometers, with 2 million residents living along it, becoming not only the mother river of Baoshan District, but also the witness of Baoshan's historical development and social change.
In 2020, Baoshan District launched the innovative transformation driven by the science and innovation strategy, transforming the abandoned factory plants into attractive high-tech parks in the area.
Driven by the developing concept of people's livelihood and development, the ongoing landscape upgrading project along the Wenzaobang River is expected to provide residents with more complete supporting facilities after its completion on July 1 this year, mainly involving viewing, leisure and entertainment.
It is noted that the Baowu Iron and Steel Expo Center, one of the visiting spots during the walking activity, also showed the history of China's steel industry by transforming from a stainless blast furnace core area to a new public area integrating work, daily life and entertainment.
The walking activity was widely attended by government officials including Chen Jie, Party chief of Baoshan District, business and youth representatives. In addition, ten selected young CEOs held a dialogue with participants of the event, presenting the image of Baoshan's innovative entrepreneurs to the audience both online and offline.
(Edited by Jiang Feifan with Xinhua Silk Road, 346129473@qq.com)