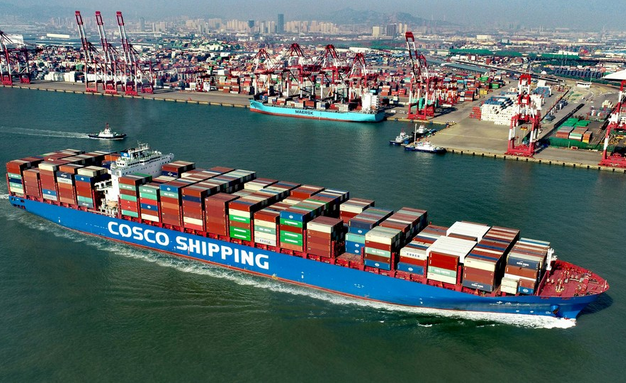 Aerial photo taken on Feb. 19, 2021 shows a cargo ship pulling out at the Qianwan Container Terminal in Qingdao, east China's Shandong Province. (Photo by Zhang Jingang/Xinhua)

BEIJING, May 20 (Xinhua) -- The starting year of the 14th Five-Year Plan period (2021-2025) heralds a good start of China's foreign trade.
The country's total imports and exports surged 28.5 percent year on year to 11.62 trillion yuan from January to April, up 21.8 percent compared with the same period of 2019, according to data released by the General Administration of Customs (GAC) earlier this month.
Following the year-on-year increase of 29.2 percent in the first quarter, China's foreign trade maintains the trend of steady and sound growth.
Notably, new highlights have emerged in the foreign trade of different regions and provinces, with the central and western areas showing vibrant performance.
-- Faster recovery
China has seen accelerated recovery of foreign trade since the start of this year. The country's total exports in the first four months reached 6.32 trillion yuan, surging 33.8 percent year on year and showing an increase of 24.8 percent compared with the same period of 2019. During the period, the imports totaled 5.3 trillion yuan, up 22.7 percent year on year, according to the GAC.
The southern island province of Hainan sees continuously booming offshore duty-free shopping. During the May Day holiday, the province raked in approximately 993 million yuan in offshore duty-free sales, which soared 248 percent year on year, according to Haikou Customs.
Traditional foreign trade-savvy provinces continue playing a dominant role in foreign trade growth. In the first quarter, the exports of eastern provinces amounted to 568.9 billion U.S. dollars, up 44.4 percent year on year, while the imports went up 26.7 percent to 490.5 billion U.S. dollars.
Benefiting from the recovering global demands and the strong supply capacity of its foreign trade industry, the southern province of Guangdong posted strong growth in imports and exports, which totaled 1.83 trillion yuan in the first quarter, showing a year-on-year increase of 33.4 percent and accounting for 21.6 percent of China's total during the same period.
The foreign trade in the central and western regions is also robust, thanks to rising trips of the China-Europe freight trains and the deepening economic and trade cooperation between China and the member states of the Association of Southeast Asian Nations (ASEAN) as well as countries participating in the Belt and Road Initiative (BRI).
In the first quarter, the foreign trade in the central and western regions reached 1.5 trillion yuan, up 45.1 percent year on year, 15.9 percentage points higher than the overall foreign trade growth.
Central China's Hubei province, which was hit hard by the COVID-19 pandemic last year, experienced rapid recovery. In the first three months, its foreign trade reached 117.46 billion yuan, jumping 88.1 percent year on year.
In the southwest area, Tibet Autonomous Region's foreign trade grew 90.5 percent to 1.03 billion yuan in the first quarter. The growth rate ranked first among that of 31 Chinese provinces, municipalities and autonomous regions.

In addition, foreign capital in actual use in the eastern, central and western regions grew by 38.2 percent, 36.8 percent and 90.9 percent respectively in the first quarter.
The central and western regions show a vibrant performance in foreign trade, with stronger capability for industrial transfer. This reflects that the domestic layout of China's foreign trade has been further improved, said Li Kuiwen, director of the department of statistics and analysis of the GAC.
-- Moving towards higher end of global value chain
Besides the growing volume, China's foreign trade is also exhibiting improving quality, with highlights coming out in different provinces and areas.

The eastern provinces are making their foreign trade move towards the higher end of global value chain. Statistics showed that the share of processing trade in these provinces' imports and exports declined, while the exports of high value-added products increased. Meanwhile, private enterprises have shown greater vitality in foreign trade. Many of them keep expanding production capacities and work tirelessly for fulfillment of increasing orders.

All workshops are running at full steam and new orders have to be arranged to three months later, said Wang Fang, manager of foreign trade department of Ningbo Seago Electric Co., Ltd., located in Jiangbei district of Ningbo, east China's Zhejiang province. The high-tech company specialized in research and development (R&D) as well as production of personal care supplies such as electric toothbrushes and accessories of toothbrush sterilizers has shown business presence in Europe, America, Japan and the Republic of Korea. It is stepping up efforts to tap the Southeast Asia markets, and plans to build an overseas production base in Thailand.
High quality products with increasing added value give foreign trade enterprises a greater say in price.
In recent years, Zhongceyite Electronics Co., Ltd., located in Haishu district of Ningbo has been cooperating with research institutes to strengthen R&D and technological innovation so as to deliver products with optimized functions. Thanks to strict quality control, the company's products are sold well in North America and Europe, and win the trust of international customers despite price rises, said Xu Zhirui, general manager of the manufacturer of electronic transformers and power supply units.
In the meantime, new growth engines are emerging in the foreign trade of central and western regions.
For instance, Henan province, which led central provinces for several consecutive years in terms of export and import value, has seen foreign trade in its comprehensive bonded zone grow faster and the share of foreign trade by air transport increase in the first quarter, with increasing import and export of mobile phone-related products.
In Tibet, civil aircrafts become a strong growth driver for foreign trade. In the first quarter, Tibet imported civil aircrafts to meet the demands of domestic flights. This led to a steep rise in the autonomous region's foreign trade. Lhasa Economic and Technological Development Zone turned out to be another engine driving regional economic growth, with its imports and exports up 3.8-fold to 849 million yuan in the first three months.

Construction of major projects also contributed to the rise in foreign trade. For instance, construction of the Beibu Gulf international gateway port located in south China's Guangxi Zhuang Autonomous Region has been picking up pace. During the January-March period, the cargo throughput in the Beibu Gulf Port reached 1.26 million TEUs, an increase of 36.81 percent year on year. At present, Beibu Gulf Port has launched 53 shipping routes, connecting with more than 200 ports in over 100 countries and regions.

-- Ensuring whole-year stable growth
With a solid foundation and favorable conditions, China's imports and exports are expected to maintain steady growth, according to an official with the GAC.

The eastern provinces are intensifying efforts to consolidate existing advantages and boost high-quality development of foreign trade.

For example, Zhejiang province vows to upgrade its foreign trade at a faster pace, build it into a safe haven for global investment, and elevate its status in the global value chain.

Talking about the second China-CEEC Expo & International Consumer Goods Fair to be held in Ningbo from June 8 to 11, Zhu Congjiu, vice governor of Zhejiang, said that in the next five years, the province will strive to import 20 billion dollars of goods from Central and Eastern European Countries (CEECs), achieve the two-way investment of 1.5 billion dollars, and maintain an annual average growth of above 30 percent in the cross-border e-commerce trade with the CEECs.

Zhu added that by so doing, Zhejiang aims to become a hub for China-CEECs cooperation and a gateway for CEECs to enter the Chinese market.
Development of Hainan free trade port is enjoying a package of preferential policies. The Ministry of Commerce (MOC) and other departments recently co-issued a notice specifying 28 measures to advance trade liberalization and facilitation in Hainan, which are expected to boost high quality development of the free trade port.

Coordinated development among regions is prioritized in stable foreign trade growth. According to a notice on declaration and certification of national processing trade industrial park recently released by the MOC, China will cultivate a batch of national processing trade industrial parks, establish a permanent coordination mechanism for industrial cooperation between the eastern, central and western regions, and support the central, western and northeastern regions to participate in international circulation.
Processing trade is always favored by foreign-funded enterprises. The implementation of national policies on guiding processing trade to move to the central, western and northeastern regions will be conducive to regional coordinated development and stabilizing foreign trade and investment, according to experts. (Edited by Su Dan with Xinhua Silk Road, sudan@xinhua.org)