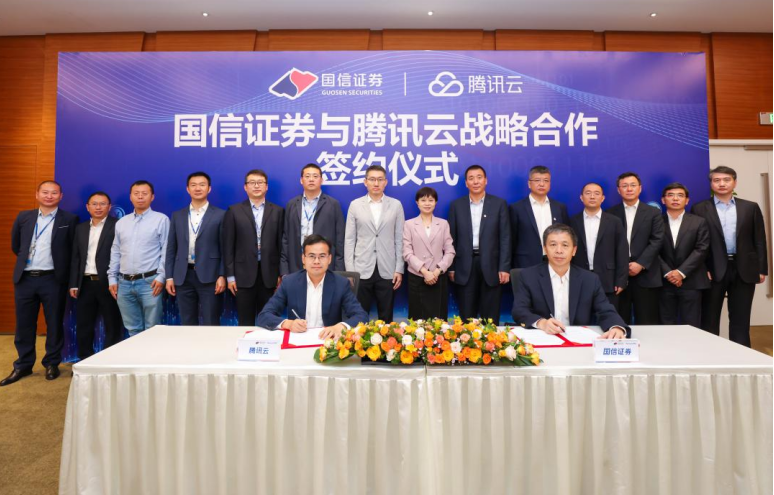 Photo shows the agreement signing ceremony between Guosen Securities Co., Ltd. and Tencent Cloud Computing (Beijing) Co., Ltd. on May 17 in Shenzhen.
BEIJING, May 18 (Xinhua) -- Guosen Securities Co., Ltd. (Guosen Securities, 002736.SZ) and Tencent Cloud Computing (Beijing) Co., Ltd. (Tencent Cloud) signed an agreement on Monday in Shenzhen to embark collaboration on financial technology (fintech), reported China Securities Journal Tuesday.
The cooperation between the two companies will focus on the innovative development and digital transformation of Guosen Securities, covering areas of cloud computing, big data, artificial intelligence (AI), blockchain, biometrics, smart audio and video services, risk control, rights and interests and other aspects.
According to the agreement, the two sides will jointly build better fintech infrastructure and expand the cloud development of securities IT, deepen domestic technology transformation, AI technology application and digital ecosystem construction, and improve customer experience and digital marketing and operation services.
They will also improve exchanges and cooperation in fintech innovation, team building, and development capabilities, and establish a mechanism for regular high-level visits to achieve long-term and reciprocal strategic cooperation.
Guosen Securities urgently needs to be "customer-centric" and actively promotes the company's digital transformation, said Zhang Nasha, Party chief and chairman of Guosen Securities, adding that he hopes as local enterprises, the two parties, can jointly utilize fintech to help Shenzhen's industrial transformation and upgrading and the development of high-tech industries.
Tencent Cloud looks forward to helping Guosen Securities build stronger industry competitiveness on the basis of existing cooperation and future collaboration on technological capabilities and connectivity capabilities, stated Qiu Yuepeng, president of Tencent Cloud.
(Edited by Wang Yuhang, Gu Shanshan with Xinhua Silk Road, gushanshan.1987@163.com)