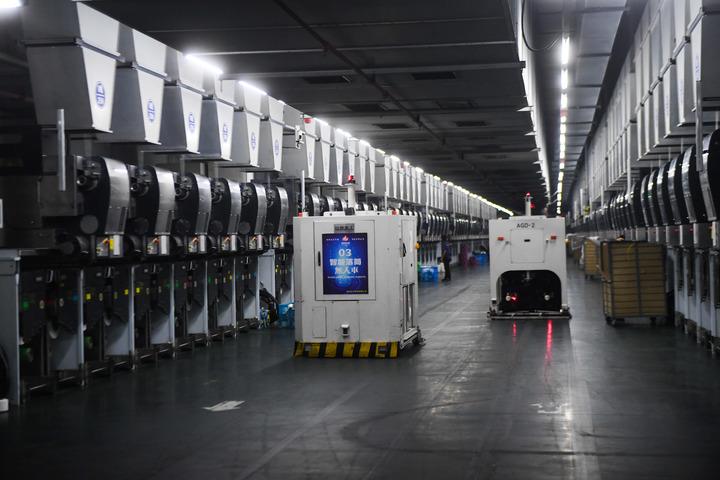 A 5G intelligent robot delivers textile products at a workshop of Xinfengming Group in Huzhou City, east China's Zhejiang Province, March 30, 2021. (Xinhua/Xu Yu)
BEIJING, May 18 (Xinhua) -- China has built the world's largest 5G standalone (SA) network, according to the Ministry of Industry and Information Technology (MIIT) recently.
The country has built more than 819,000 5G base stations by the end of this March, accounting for about 70 percent of the world's total, Liu Liehong, vice minister of the MIIT said at the World Telecommunication and Information Society Day Conference (WTISD Conference) held on Monday.
Starting from this "517" (WTISD), new 5G terminals will by default enable 5G SA function when connected to network, according to a report by Xinhua-run Economic Information Daily.
The country has made remarkable achievements for 5G commercial development with Chinese enterprises taking the lead among 5G standard essential patent (SEP) holders declared by ETSI, Liu said.
China has gained competitive edge in 5G application innovation with over 9,000 cases and 5G integrated into a variety of industries, Liu added.
5G SA network gives full play to 5G technical characteristics compared with 5G non-standalone (NSA) network which is a hybrid networking mode with 5G base stations connected to 4G core network.
It is noted that China aims to build more than 600,000 5G base stations in 2021 to further speed up the scale application of 5G SA network.
(Edited by Tian Shenyoujia, Niu Huizhe with Xinhua Silk Road, niuhuizhe@xinhua.org)