BEIJING, May 17(Xinhua) -- Bilateral trade between China and Russia has resumed positive growth amid negative impact from COVID-19 pandemic.
From January to April, bilateral trade volume between China and Russia was 40.21 billion U.S. dollars, up 19.8 percent and 21.2 percent respectively from the same period of 2020 and 2019. It has been the first time in history for the figure of the first four month exceeding 40 billion U.S. dollars.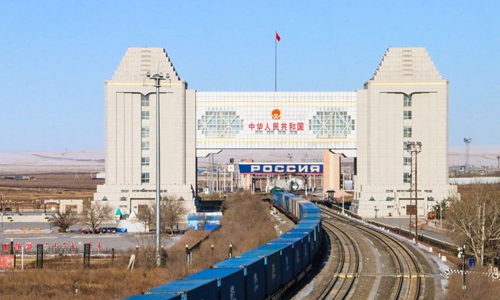 A freight train departing from Manzhouli City in North China's Inner Mongolia Autonomous Region passes through China-Russia border on Feb 19, 2020.
Besides, during the period, China's imports from Russia increased by 7.7 percent, marking the first positive growth since last May.
The trade structure between the two countries has further improved. In the first quarter of this year, the import and export growth rates of mechanical and electrical products and high-tech products both exceeded 50 percent, much higher than the growth rate of bilateral trade in the same period, said Gao Feng, spokesperson for Ministry of Commerce.
Meanwhile, China saw increasing investment and contracted projects in Russia. In the first quarter of this year, China's non-financial direct investment in Russia increased by 9 percent year-on-year, making Russia the fourth largest economic and trade partner of China.
In January-March, the value of newly signed projects hit 630 million U.S. dollars, a year-on-year increase of 90.9 percent. Completed turnover of contracted projects reached 830 million U.S.dollars, up 18.6 percent year-on-year. The cooperation on major strategic projects in the fields of nuclear energy, aerospace, and cross-border infrastructure has advanced steadily, and new progress has been made in local cooperation and cooperation in scientific and technological innovation, according to Gao.
From the current situation, Sino-Russia trade is expected to maintain the growing trend in 2021, and the annual trade scale is likely to reach a new high, added Gao.
(Edited by Bao Nuomin with Xinhua Silk Road, baonuomin@xinhua.org)