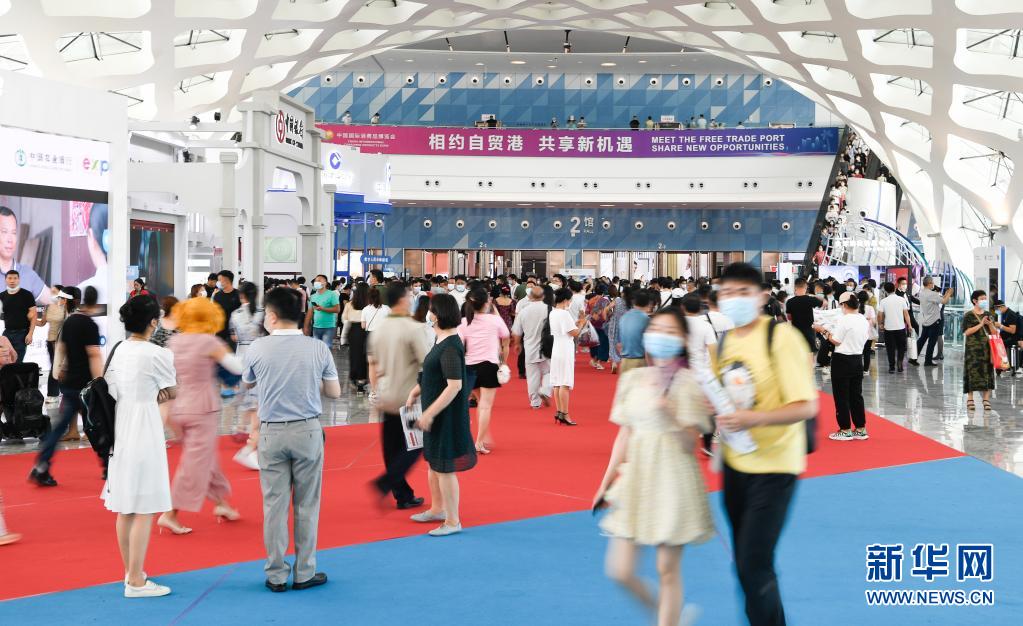 Photo: People visit the first China International Consumer Products Expo in Haikou, capital of south China's Hainan Province, May 10, 2021.
BEIJING, May 13 (Xinhua) -- Against the backdrop of the global duty-free industry being greatly affected by the COVID-19 epidemic, the growth momentum of offshore duty-free sales in China's Hainan Province seems to be "an exception" as it becomes the strong driving force to win back national consumption and promote consumption upgrade.
At the Global Consumption Innovation & Duty Free and Travel Retail Conference held on May 7 during the first China International Consumer Products Expo (CICPE), representatives of global consumer boutique enterprises, industrial experts and relevant officials of Ministry of Commerce (MOC) gathered together to explore the huge growth potential of China's consumption market.
-- Luxury brands confident in Chinese market
Global leading luxury enterprises in the areas such as clothing, jewelry and cosmetics gathered at the CICPE and indicated that they will seize the opportunities in Hainan's duty-free business and expand their presence in China.
China has become the second largest diamond market in the world. De Beers will work closely with Hainan free trade port to promote the building of processing and manufacturing, supply chain and distribution center in the region, said Nancy Liu, CEO of global diamond giant De Beers Forevermark during the conference.
During the first CICPE, foreign enterprises and brands all actively participated, suggesting that foreign enterprises have faith in Chinese market and are confident about the prospects of China's economy, according to Wang Bingnan, Vice Minister of MOC.
Domestic duty-free enterprises are also expanding their businesses in Hainan. Wan Min, chairman of China Tourism Group, said that the sales of China Duty Free Group in Hainan amounted to 32.7 billion yuan in 2020, up 127 percent year-on-year.
The Group will work with global partners in promoting offshore duty-free as the key for consumption transformation and upgrading, Wan added.
-- Hainan expected to be the largest duty-free market worldwide
The global duty-free retail industry suffered a severe blow from the COVID-19 epidemic in 2020. According to the a white paper on global duty free industry jointly issued by the Moodie Davitt Report and KPMG, revenues of travel duty-free retail in 2020 were nearly none in April and May, then gradually recovered in June and July, and slightly grew till December.
But this did not happen in Hainan. With the timely and effective prevention and control of the pandemic as well as the policy support of China, though inbound population reduced by 22.2 percent, the revenue from offshore duty-free sales still saw a year-on-year increase of 127 percent in 2020.
More excitingly, the accelerated growth still continues for the offshore duty-free industry in Hainan, with its income reaching 15.39 billion yuan in the first quarter of 2021, up 416.6 percent.
Bai Ming, deputy director of International Market Research Institute, CAITEC, said that tourists coming to Hainan are not only for visiting, but also for shopping. Since Hainan launched its offshore duty-free business in April 2011, Hainan has raised the duty-free limits for six times. The offshore duty-free business has greatly helped the region in attracting outside tourists and promoting consumption.
The white paper also pointed out that Hainan was the beacon for global duty-free industry in 2020 and is likely to be the largest duty-free market in the world in the short term.
Chen Wenling, chief economist of China Center for International Economic Exchanges, said that Hainan is likely to be the paradise for duty-free and travel retail industry and become the world trade center, international consumption center and the global paradise of duty-free products after 2025.
All these come from the huge potentials of large domestic market in the future. According to the analysis of Long Guoqiang, deputy director of Development Research Center of the State Council, the current consumption rate of China's residents is less than 40 percent, lower than that of the countries with similar development level and far lower than that of the developed countries and for that, China has huge potentials in expanding consumption demands.
(Edited by Gao Jingyan with Xinhua Silk Road, gaojingyan@xinhua.org)