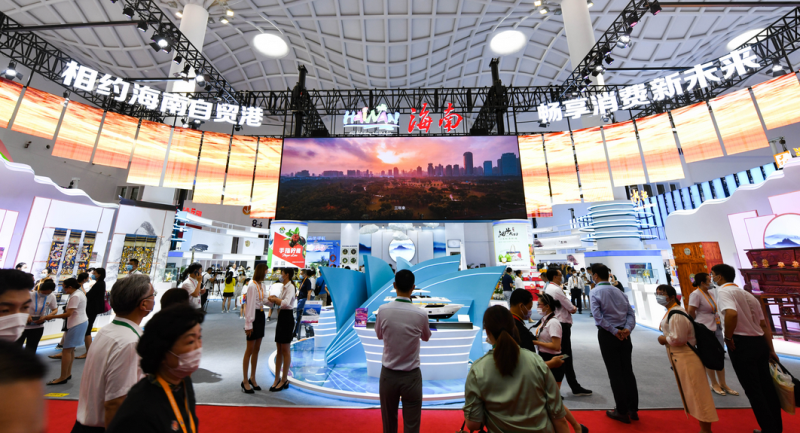 People visit the Hainan Exhibition Area in the Provinces, Municipalities, Autonomous Regions of China Exhibition Hall during the first China International Consumer Products Expo in Haikou, capital of south China's Hainan Province, May 7, 2021. (Xinhua/Yang Guanyu)

BEIJING, May 13 (Xinhua) -- The first China International Consumer Products Expo (CICPE) held from May 7 to 10 in Haikou, capital of south China's Hainan Province, has proven to be a magnet for international companies. During the expo, cooperation contracts between international high-end brands were inked, with cooperation areas and contract amount hitting new high.

As China beefs up efforts to spur domestic consumption and open wider to the world, more and more foreign enterprises gravitate to scale up investment in China's 40-trillion yuan consumer market, which in turn will further help unleash market potential.

-- Appealing market

Striving for post-pandemic recovery, multinational giants came to the expo to debut their new products and showcase their top-notch goods, including LVMH, Kering, L'Oréal, Remy Martin, Martell, Galeries Lafayette from France; Richemont, Swatch, Nestlé from Switzerland; Burberry, JLR from the United Kingdom; Yachts Group from Germany; Shiseido, Fancl, Omron from Japan; Johnson & Johnson, Dell, NBA from the United States; and Osborne from Spain.

A total of 1,365 international brands from 69 countries and regions displayed products in categories of fashion, jewelry, food and supplements, lifestyle and outdoors, as well as hospitality and professional services at the exhibition area of 80,000 square meters, making the expo the largest consumer goods expo in the Asia-Pacific region.

Participants were busy with business negotiations during the four-day event.

On the first day of the expo, Edrington China (Shanghai) Limited, a wholly owned subsidiary of Scotland-headquartered Edrington Group, concluded a contract worth more than 100 million yuan with the China-based Shenzhen Hongzhijia Trading Co., Ltd. It was so far the largest order inked by Edrington's whisky brand Macallan in the south China.

On May 8, one yacht from French company Beneteau sold for 14 million yuan. This was the first imported yacht enjoying zero-tariff treatment at the Expo. According to policies implemented earlier by the Hainan government, enterprises engaged in transportation and tourism can import vehicles and yachts with no tariffs. Under the policies, the purchase price of the yacht was reduced by 38 percent, saving the buyer nearly 4 million yuan in taxes and fees.

Good news also came when Chinese cross-border e-commerce giant Onion Global signed agreements with Oceanfit, Kingdomway, Soskin, Daeng Gi Meo Ri, Enare, Trilogy and Nutrition Care (NC).

Likewise, JD Worldwide were engaged in strategic cooperation in such fields as fast moving consumer goods (FMCG), medicine and personal care with a number of brands including Nestlé, Perrier, Fonterra, Fortune Pharmacal and Hong Kong 5CTong Limited.

Foreign enterprises and brands accounted for the majority of the exhibitors, which once again proved China's firm determination to promote higher-level opening-up, said Wang Bingnan, China's vice minister of commerce.

It also demonstrated that foreign enterprises are optimistic about the Chinese market and full of confidence in China's economic development, added Wang.

-- Favorable policies

For overseas enterprises, the appeal of the Chinese consumer market, to certain extend, lies in its super large size.

With a total population of over 1.4 billion and more than 400 million middle-income residents, China has become the world's most promising consumer market.

From 2012 to 2019, China's total retail sales of consumer goods, a major indicator of consumption strength, increased from 21.03 trillion yuan to 40.80 trillion yuan, with an average annual growth of 10.94 percent, said a report on China's consumption market released by the China Institute for Reform and Development (CIRD) at the CICPE.

Although the total retail sales of consumer goods in 2020 went down 3.93 percent year on year from the previous year due to the COVID-19 pandemic, the trend of consumption upgrading in China remains unchanged, said Chi Fulin, president of CIRD, expecting that the retail sales will grow at a pre-pandemic rate by the end of this year.

The upward trend was mirrored by data released by the National Bureau of Statistics (NBS) last month. According to the official data, China's retail sales of consumer goods picked up 33.9 percent year on year to 10.5 trillion yuan, and the average Q1 growth for the past two years stood at 4.2 percent. In March alone, the retail sales surged 34.2 percent year on year and the two-year average growth was 6.3 percent.

Chinese authorities have been making favorable policies to boost consumption.

The Ministry of Commerce, the National Development and Reform Commission, the Ministry of Finance, the General Administration of Customs and other departments have recently enhanced implementation of pro-consumption measures, including optimizing regulation on offshore duty-free shopping, advancing the building of some cities into international consumption centers, expanding the scope of cross-border e-commerce retail import pilots.

It is learned that policies on improving market entry system, propelling trade liberalization and facilitation, and those aiming at further opening up as well as the negative list for cross-border trade in service have been put on the government agenda.

With implementation of the policies, the potential of China's consumer market will be further unleashed during the 14th Five-Year Plan period from 2021 to 2025 and the country is likely to become the world's largest consumer products market and an emerging consumer of services, said Chi.

-- Expanding business in China

The CICPE has heightened foreign enterprises' determination and confidence to expand their business in China.

The Chinese market serves as the dual engine of development and innovation for Johnson & Johnson's global business, said Farrell Wang, managing director of consumer health at Johnson & Johnson China. He noted that the company is looking forward to making full use of its professional advantages as well as various supportive policies from Hainan province to better serve consumers via more innovative and high-quality healthy consumer products.

The rapid rise of China's middle-income groups has given a boost to the growth in the consumer market. As consumers' appetite for high-end products grows, enterprises are eying the resulting broad business opportunities, said Daniel Battiston, chairman of BAMOA GmbH. The Swiss company made four series of its products debut in China during the consumer products expo.

Yann Bozec, president of Tapestry Asia Pacific and Coach China president and CEO said that the booming consumer market in China is catalyzing global brands to make innovations and investments in the country. It is also injecting great vitality into global consumer market recovery and economic growth. (Edited by Su Dan with Xinhua Silk Road, sudan@xinhua.org)