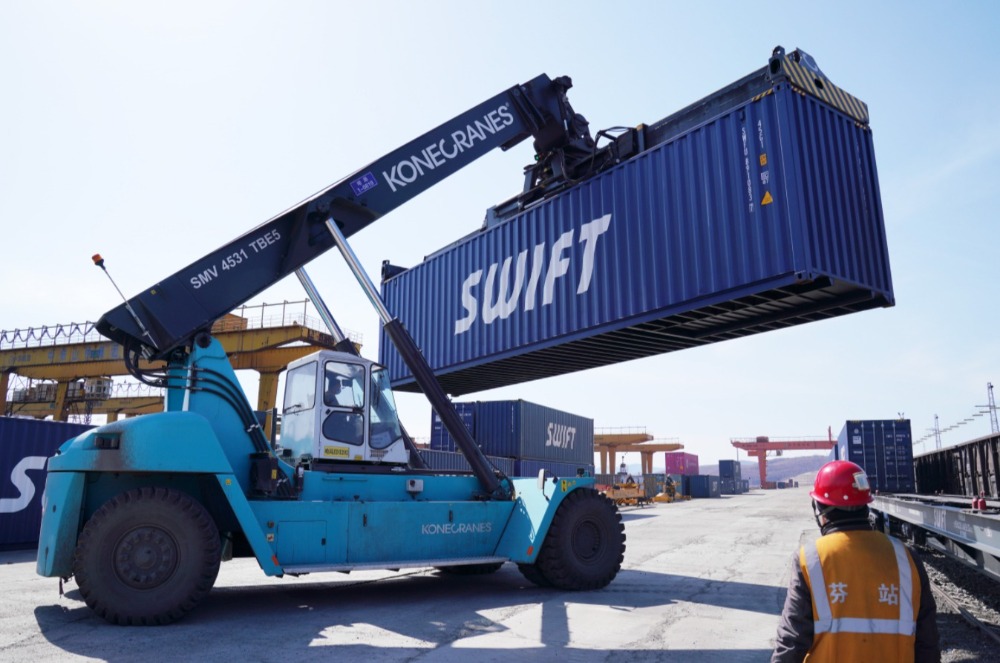 A crane works on a China-Europe freight train at Suifenhe Railway Port in Suifenhe, northeast China's Heilongjiang Province, April 1, 2021. (Xinhua/Wang Jianwei)
BEIJING, May 8 (Xinhua) -- Suifenhe Railway Port in northeast China's Heilongjiang Province has added a new route for China-Europe freight train service, linking Mylki in Russia with Ganzhou in east China's Jiangxi Province.
An inbound China-Europe train from the Mylki station, loaded with 43 carriages of 1,600 cubic meters of timbers, arrived at the Suifenhe station on May 6, and will further go to the Ganzhou port.
It is reported that the train service is expected to have four trains on a regular basis every month, with a total of 200 containers carrying 7,200 cubic meters of timber.
Suifenhe is an important railway port on the way from Heilongjiang Province to Russia, and also one of the important entry and exit ports of China-Europe freight trains. Since the launch of the China-Europe freight train service at Suifenhe Railway Port for the first time in August 2018, it has so far seen more than 400 trips made by such trains.
At present, the inbound China-Europe freight trains via the Suifenhe Railway Port mainly arrive in the domestic cities such as Chengdu, Zhengzhou, Chongqing, Dalian, and Harbin, and the outbound ones usually deliver goods to Russia, Poland, Germany, Belgium and other countries. (Edited by Hu Pingchao with Xinhua Silk Road, hupingchao@xinhua.org)