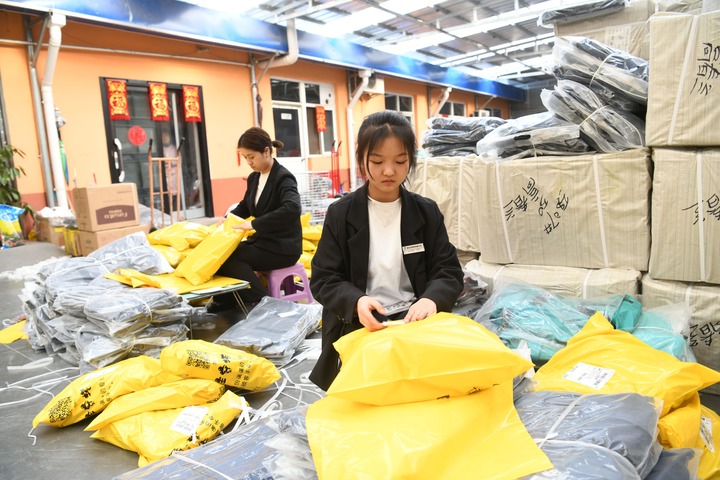 Staff members pack parcels for deliveryin Baigou New Township of Baoding, north China's Hebei Province, March 30, 2021. (Xinhua/Jin Liangkuai)
BEIJING, May 7 (Xinhua) – The Caixin China General Services PMI, an index that gauges activities of China's service sector, rose to 56.3 in April, up two points from a month earlier this year, staying in expansionary territory for 12 months in a row, according to Caixin.
The earlier-released Caixin manufacturing PMI rose 1.3 points from March to 51.9 in April, the strongest reading since 2021.
The accelerated growths in China's manufacturing and service PMI led to the Caixin composite PMI rising 1.6 points from March to 54.7 in April, indicating a sharp expansion of China's total production and business activity.
According to Caixin, service supply and demand both expanded at a faster pace than the previous month and continued the upward trend for the 12th consecutive month. Among which, new orders increased rapidly, hitting a record high after November 2020, signaling an accelerated recovery of the services sector.
In addition to China's success of prevention and control over the COVID-19 epidemic, the April's expansion was also attributed to the recovery of export business and substantial growth in overseas new orders.
Service companies added staff gradually to meet market demand, reflecting the continuity of services recovery, and the outstanding orders declined slightly in April as an increased number of staff finished part of orders.
Caixin also revealed that input costs increased faster in March than the previous one, maintaining expansion for the 10th month in a row amid rising raw material prices and demand-driven higher labor costs. At the same time, prices set by service provider rose along with costs.
Although the indicators for business expectations slightly declined from March, entrepreneurs from the service sector remain confident about the control of the epidemic and economic recovery.
Wang Zhe, senior economist at Caixin Insight Group said that the post-epidemic manufacturing and services recovery accelerated as both supply and demand expanded, and business confidence was high amid strong overseas demand and improved employment. Services recovered faster than manufacturing.
(Edited by Jiang Feifan with Xinhua Silk Road, 346129473@qq.com)