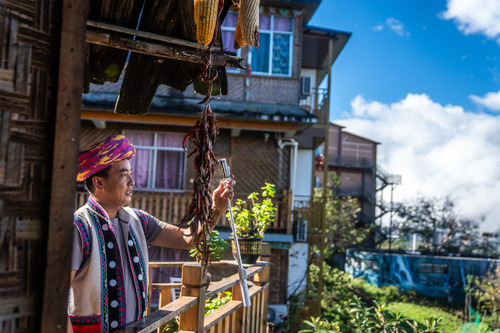 Yu Wulin of Nu ethnic group shares the scenery of Nujiang Valley via live streaming from his homestay in Laomudeng Village in Fugong County, Lisu Autonomous Prefecture of Nujiang, southwest China's YunnanProvince, Nov. 3, 2020. (Xinhua/Hu Chao)
BEIJING, May 6 (Xinhua) – The rural online retail sales surged 42.36 percent year on year amounting to 15.96 billion yuan in southwest China's Yunnan Province in the January-March period, reported Yunnan Daily Tuesday.
The online retail sales of agricultural products in Yunnan's rural areas reached 7.39 billion yuan during the period, up 26.37 percent year on year, accounting for 46.28 percent of the total in rural area.
During the same period, online retail sales volume in the province hit 28.87 billion yuan.
During China's 13th Five-Year Plan period (2016-2020), Yunnan Province achieved an average annual growth rate of 33.53 percent in online retail sales, 11.76 percentage points higher than the national average.
In 2020, online retails in Yunnan hit 110.81 billion yuan, up 14.21 percent on year. The rural online retail sales came in 58.25 billion yuan in 2020, up 19.23 percent year on year, while sales of agricultural products stood at 28.38 billion yuan, up 28.24 percent year on year.
The province's achievement in online retails sector is mainly attributed to the government's strategy of integrating rural e-commerce with local competitive industries. By far, a total of 105 county-level cities have been engaged in e-commerce retailing, with a total of 689,000 online retail entities settled, which has created 1.862 million local jobs.
Yunnan Province will continue its efforts to reduce operating costs and improve business circulation efficiency for e-commerce, to further improve the development of e-commerce in rural areas.
(Edited by Jiang Feifan with Xinhua Silk Road, 346129473@qq.com)