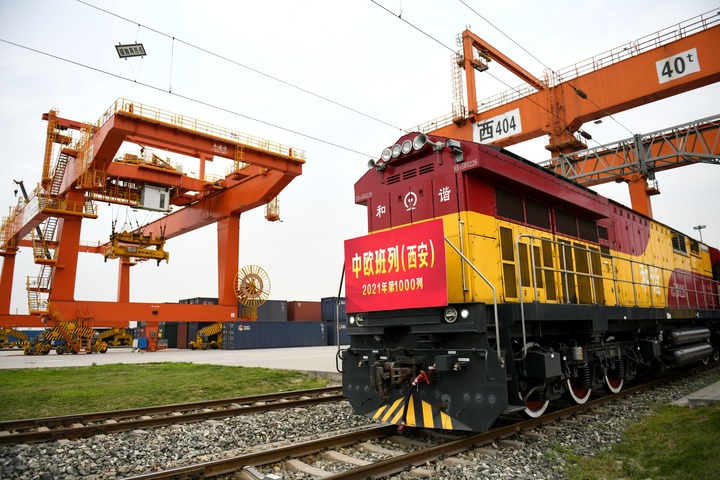 The X9041 train prepares to leave Xi'an International Port for Kazakhstan in Xi'an, northwest China's Shaanxi Province, April 13, 2021. (Xinhua/Li Yibo)
BEIJING, April 30 (Xinhua) -- Northwest China's Shaanxi Province recently released 26 specific work priorities on promoting the Belt and Road (B&R) construction in 2021, aiming to promote the province's participation of the Belt and Road Initiative (BRI), reported Shaanxi Daily Thursday.
According to the measures, Shaanxi Province will speed up the construction of transport and logistics facilities, including the China-Europe freight train assembly center and international aviation hub.
While promoting the development of science, technology and education cooperation, the province will also inject impetus into the international cultural and tourism communication and exchange.
Shaanxi vows to strengthen policy support and guidance in the financial sector, innovating financial products and services, and speed up the construction of relevant key platforms and projects.
Efforts will also be made to actively expand the areas of international cooperation in Shaanxi.
Local authorities in Shaanxi pledge to provide strong policy guarantees for the development of various sectors and enhance risk prevention for major projects.
(Edited by Jiang Feifan with Xinhua Silk Road, 346129473@qq.com)