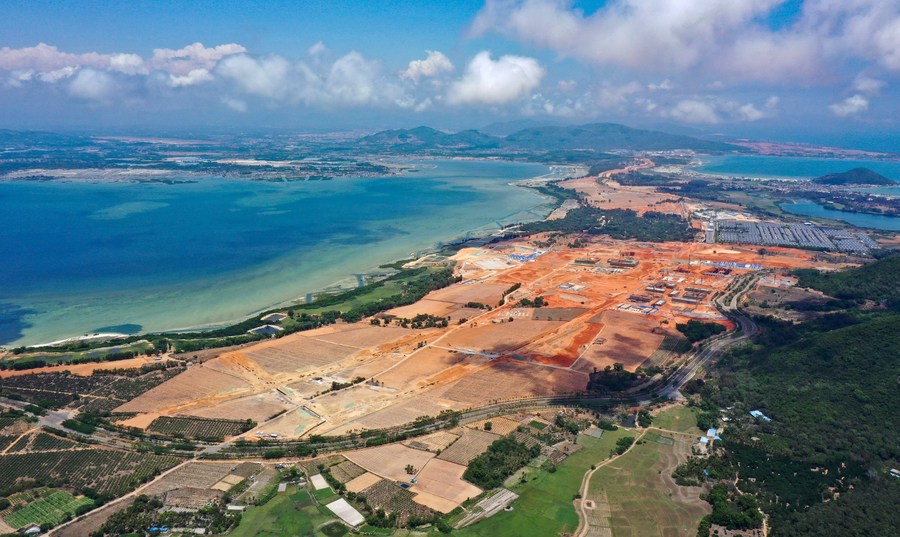 Aerial photo taken on April 4, 2021 shows the construction site of Lingshui Li'An international education innovation pilot zone in Li'An peninsula of Lingshui Li Autonomous County, south China's Hainan Province. (Xinhua/Guo Cheng)
BEIJING, April 29 (Xinhua) -- Chinese authorities on Monday released a circular of 28 policies and measures to further liberalize and facilitate trade in goods and services at the Hainan free trade port, steering the high-quality construction of the port into fast lane.
-- Expediting high-quality construction with the aim to open wider
"Free and convenient trade is a universal feature of advanced international free trade ports, and it is also the core content of Hainan's free trade port policy system," said Tang Wenhong, an official with China's Ministry of Commerce (MOC).
The circular is a systematic and integrated innovation of policies and systems to promote trade liberalization and facilitation, and also responds to the actual demands of market players, he added.
Many company executives believe that the measures such as relaxing import qualification and quantity management of crude oil and sugar in certain regions and supporting the development of digital trade will bring development opportunities to enterprises, and boost the development of related industries in Hainan.
In the view of Sang Baichuan, dean of the Institute of International Economy (IIE), University of International Business and Economics (UIBE), the introduction of the new measures will not only speed up the construction of the Hainan free trade port, but also show China's determination to promote the liberalization and facilitation of international trade and uphold an open world economy.
-- Enhancing enterprises' sense of gain
According to the circular, the imports of sugar in Yangpu Bonded Port Area, the pilot area of Hainan free trade port, will be excluded from tariff rate quota management on a trial basis. The administrative measures for import licensing of mechanical and electronic products will be abolished, and support will be given to Hainan in developing new offshore international trade and digital trade.
Relaxing tariff rate quota in some areas is a great boon for Hainan to expand its processing trade, said Wei Jiangong, chairman of the Hainan Hengfeng International Food Logistics and Processing Industrial Park.
"Releasing quota management of sugar and other products in the Yangpu Bonded Port Area will increase imports. It will not only provide people with delicious and inexpensive food, but also significantly increase the profit margin of enterprises and make related industries bigger and stronger," Wei added.
The circular also proposes that the right to permit bonded refueling for international sailing vessels in Hainan be delegated to the provincial government.
Decentralization of the right to permit bonded refueling can reduce the cost of shipping companies, improve the comprehensive services of ports and the international competitiveness of Hainan's shipping service industry, said Zhang Guorong, general manager of the bonded oil division with Sinopec & COSCO Marine Fuel Supply Co., Ltd., a company jointly established by China Petroleum & Chemical Corporation (Sinopec) and China COSCO Shipping Corporation Limited (COSCO Shipping).
Many measures in the circular involve supporting Hainan's development of new offshore international trade, digital trade, technology trade, cultural trade and platform projects.
"The policy release is very positive for the development of the digital economy," said Liu Huiqing, president of the Industrial Research Institute of the Hainan Free Trade Port Ecological Software Park.
Liu added that digital services, as a new form of business, need certain policy support for development, and by improving relevant banking services, enterprises can get credit loans more easily, which will support the expansion of digital service exports.
The circular is accurate, forward-looking and systematic, said Zhao Fujun, a researcher and director of the general research office with the Research Department of Foreign Economic Relations of the Development Research Center of the State Council.
For instance, Zhao pointed out, actively developing digital trade, and strengthening the efforts of the first trial by centering on the three leading industries of tourism, modern services and high and new technology well reflect the foresight.
-- Coordinating development and security
While promoting trade liberalization and facilitation at a higher level, some of the measures listed in the circular also focus on building corresponding regulatory and risk prevention and control systems.
For example, the circular puts forward to enhance the capacity to give early warning of risks related to the quality and safety of import and export commodities and to regulate them in a rapid manner, put in place a trade adjustment assistance mechanism that is compatible with the open economy of the free trade port, and further improve the statistical and monitoring system for international trade in services.
By focusing on innovating regulatory models while strengthening the building of the risk prevention and control system, these measures reflect the concept of coordinated development and security, and also serve as an important guarantee for safe opening-up, said Tang Wenhong.
Attention should be paid to the combination of these new measures with the measures that have already been taken in Hainan free trade port, the coordination of opening-up and security and the timely assessment of related effectiveness and problems, so as to explore related paths and accumulate related experience, said Cui Weijie, vice president of the Chinese Academy of International Trade and Economic Cooperation.
(Edited by Gu Shanshan with Xinhua Silk Road, gushanshan.1987@163.com)