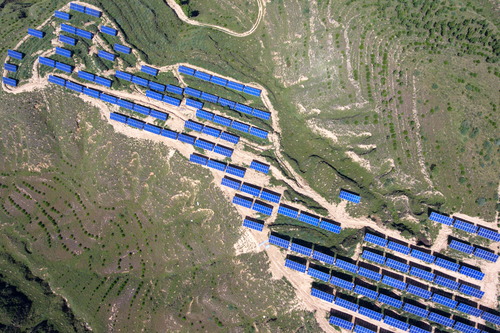 Aerial photo taken on Sept. 4, 2018 shows a photovoltaic power plant in Loufan County, Taiyuan City, north China's Shanxi Province. In recent years, the county has vigorously developed and utilized solar energy by building photovoltaic power plants on barren mountains. (Xinhua/Cao Yang)
BEIJING, April 28 (Xinhua) -- North China's Shanxi Province registered a total of 560 million yuan in solar cell exports in the first three months of this year, surging 274.9 percent year on year, according to the latest data from local customs.
Among Shanxi's major trading partners, the export volume of solar cells to India hiked 372.3 percent year on year to 280 million yuan, while the exports to the ASEAN surged 467.3 percent to 180 million yuan.
Although the global photovoltaic (PV) project construction was hindered by the COVID-19 epidemic, overseas PV installation demand continued to rebound due to the enthusiasm of countries around the world for the construction of solar power stations.
According to the industry forecast, with the rapid reduction of the cost of PV generation, global PV installed capacity is expected to continue to grow.
Local customs in Taiyuan has been committed to implementing of simplified customs clearance procedures, and recommending qualified enterprises to apply for AEO enterprises credit certification, to facilitate the international business of solar cell industry.
Meanwhile, the customs also provides risk monitoring for international trade, and joins hands with commercial departments to publicizing the latest policies on customs protection of intellectual property rights (IPR) and preferential measures of origin of RCEP to solar enterprises.
(Edited by Jiang Feifan with Xinhua Silk Road, 346129473@qq.com)