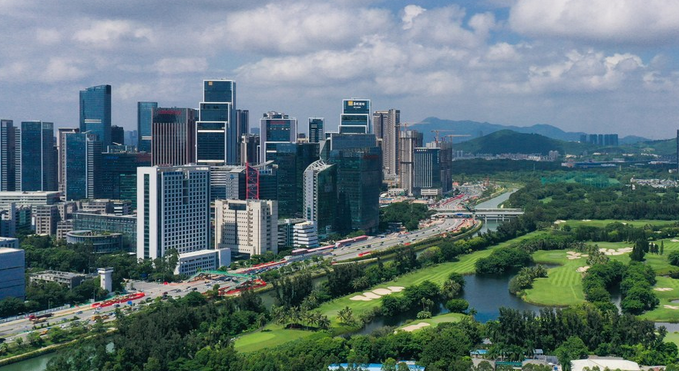 Aerial photo taken on Sept. 27, 2020 shows the science and technology park along the bank of the Dasha River in Nanshan District of Shenzhen, south China's Guangdong Province. (Xinhua/Mao Siqian)
BEIJING, April 20 (Xinhua) -- China's actual use of foreign capital in the first quarter amounted to 302.47 billion yuan, up 39.9 percent year on year, according to data recently made public by Gao Feng, spokesperson of the Ministry of Commerce (MOC).
From the perspective of industries, the actual use of foreign capital in service industry during the period was 237.79 billion yuan, jumping 51.5 percent year on year. The actually utilized foreign capital in high-tech industry increased 32.1 percent year on year, with that in high-tech service sector surging 43.9 percent and that in high-tech manufacturing up 2.5 percent.
In terms of source, actual investment from Belt and Road (B&R) countries, the Association of Southeast Asian Nations (ASEAN) and the European Union (EU) went up 58.2 percent, 60 percent and 7.5 percent year on year, respectively.
A total of 10,263 foreign-invested enterprises were established in China from January to March, showing a year-on-year increase of 47.8 percent. (Edited by Su Dan with Xinhua Silk Road, sudan@xinhua.org)