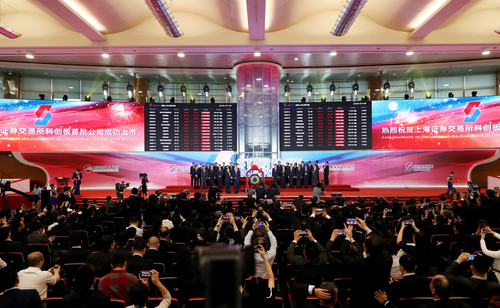 BEIJING, April 19 (Xinhua) -- Shanghai Stock Exchange (SSE) released on April 16 amended interim rules on firms applying for initial public offerings (IPO) on its sci-tech innovation board, widely known as the STAR market, to support hard technologies firms, reported Xinhua-run Xinhua Finance.
SSE took the move on the same day when China's securities watchdog revised and unveiled a directive on appraisal of the sci-tech and innovation properties of the STAR market IPO applicants.
The bourse said the amendments to the rules were to further clarify the standards and application and recommendation requirements of the sci-tech properties of IPO applicants on the STAR market in a bid to define responsibilities of IPO issuers and intermediaries and boost high quality development of the board.
According to the SSE interim rules, industries that STAR market IPO applicants are engaged in are classified as supported industries, restricted industries and prohibited industries. While focusing on supporting hard technologies firms, financial technology firms and business mode innovation firms are restricted to list on the STAR market and real estate developers and enterprises mainly engaged in financial and investment business are banned from listing on the market.
SSE issued for the first time the interim rules on firms applying for STAR market IPO in March 2020. Since operation of the STAR market in June 2019, a batch of hard technologies firms and firms dedicated to breaking bottleneck technologies in China went public.
On the board, industrial clusters for firms engaged in new generation of IT, biomedicine and high-end equipment sectors have basically in shape. For integrated circuit firms, a relatively complete and independent industrial chain has been formed. For biomedicine firms, a batch of innovative companies capable of achieving technology breakthroughs via scientific research have been pooled on the market. For high-end equipment makers, many breakthroughs in key segmented areas have been realized.
In the future, SSE vowed to cultivate more sci-tech enterprises with competitive hard technologies to better serve the innovation-driven development strategy in China. (Edited by Duan Jing with Xinhua Silk Road, duanjing@xinhua.org)