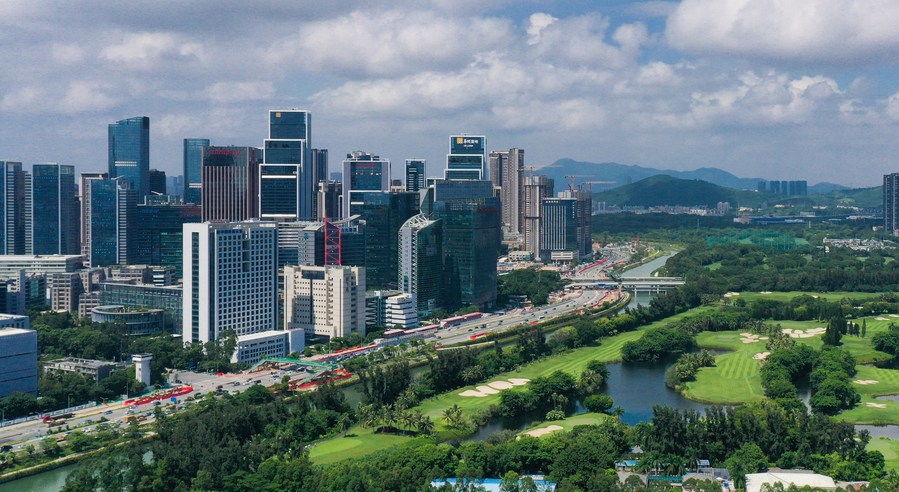 Aerial photo taken on Sept. 27, 2020 shows the science and technology park along the bank of the Dasha River in Nanshan District of Shenzhen, south China's Guangdong Province. (Xinhua/Mao Siqian)
BEIJING, April 19 (Xinhua) -- The total credit bonds issuance in China's exchange market stood at 447.75 billion yuan (about 68.60 billion U.S. dollars) in March, up 279 percent month on month, according to the data released by CSCI Pengyuan, a credit rating agency in China.
Among the total, 151 corporate credit bonds were issued, worth around 189.07 billion, a month-on-month surge of 358 percent and 394 percent, respectively, with net financing hitting about 88.54 billion yuan.
In terms of industries, issuers of corporate credit bonds come from building decoration and comprehensive industry.
As for regions, the issuers are based in 24 regions in the country, such as Guangdong, Beijing and Shanghai.
With the rapid development of China's credit bond market, outstanding bonds had reached 28.9 trillion yuan by the end of last year, lending substantial support to the real economy.
(Edited by Li Shimeng with Xinhua Silk Road, lishimeng@xinhua.org)