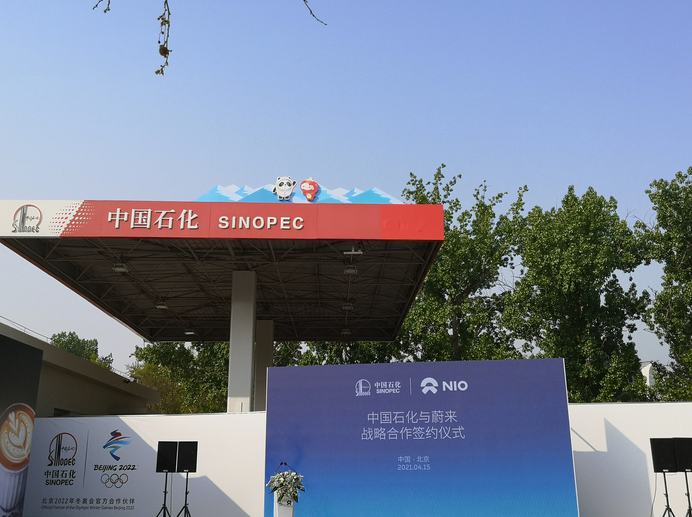 Photo provided by Sinopec shows the world's first intelligent battery swap station jointly built by the group and Chinese EV maker NIO.
BEIJING, April 16 (Xinhua) -- The world's first intelligent battery swap station located in Chaoyang district of Beijing went into service on Thursday.
The intelligent station, jointly constructed by China's leading oil and gas producer China Petroleum & Chemical Corporation (Sinopec) and electric vehicle (EV) maker NIO, covers an area of 60 square meters.
Empowered by intelligent battery swap system, the station offers drive-in services, rending users to complete parking and battery swapping without getting off their cars.
Also adopting the second generation of batter swap technology independently developed by NIO, the station can provide up to 312 times of battery swap services per day, which will be conducive to improving battery swap efficiency.
The cooperative construction represents a concrete measure made by Sinopec and NIO to jointly build a new ecological environment for intelligent EV travel and contribute to carbon neutrality.
Zhang Yuzhuo, chairman of Sinopec, said that the cooperation is expected to promote both sides to give full play to their respective advantages and deepen cooperation in a wider range, as Sinopec is speeding up the transformation from traditional oil products seller to comprehensive energy service providers of oil and non-oil products, gas, hydrogen, and electricity, with focus on developing new businesses such as battery swap stations and high-power direct-current fast charging. He also mentioned that Sinopec plans to build 5,000 batter swap stations by 2025.
Li Bin, chairman of NIO, said that Sinopec's investment in green energy services will encourage more users to choose new energy vehicles.
NIO's president Qin Lihong said that joint construction can reduce costs, adding that Sinopec's more than 30,000 gas stations across the country will provide a good support for NIO's layout of batter swap stations in the future.
Sinopec and NIO signed on the same day a strategic cooperation agreement, according to which the two sides will join hands in areas of new materials, smart EVs, battery-as-a-service (BaaS), vehicle procurement and leisure consumption site construction. (Edited by Su Dan with Xinhua Silk Road, sudan@xinhua.org)