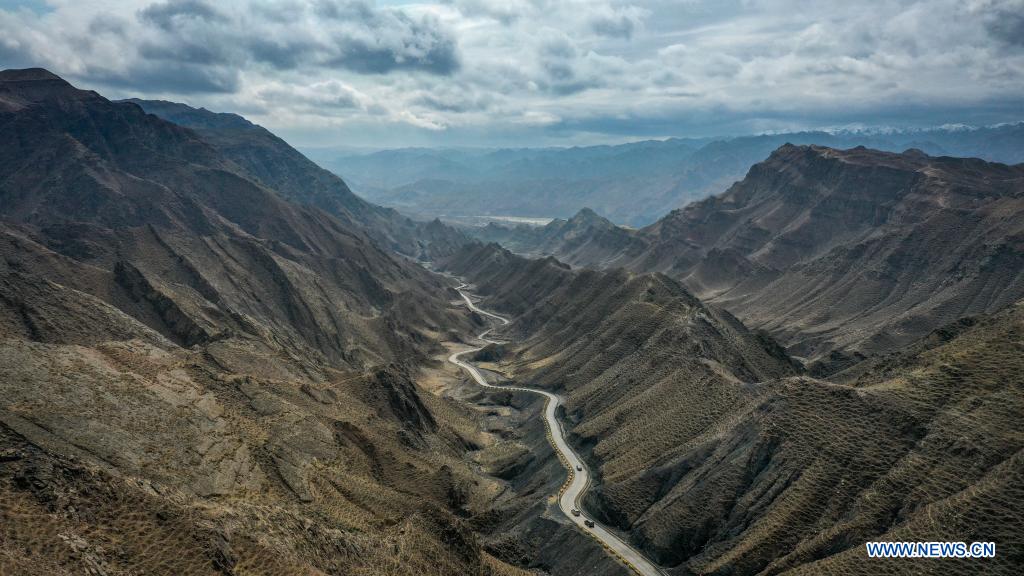 Aerial photo taken on April 4, 2021 shows the scenery of mountains in the Heishan Gorge area in Zhongwei City, northwest China's Ningxia Hui Autonomous Region. Heishan Gorge is located in the upper reaches of the Yellow River, with a total length of over 70 kilometers. (Xinhua/Feng Kaihua)
BEIJING, April 14 (Xinhua) -- Northwest China's Ningxia Hui Autonomous Region on Monday issued a work plan to advance the construction under the Belt and Road Initiative (BRI) and the inland opening-up pilot economic zone in 2021, reported Ningxia Daily Tuesday quoting Ningxia Hui Autonomous Region Development and Reform Commission.
Specifically, efforts will be made to optimize the air routes and flights between Ningxia's capital city Yinchuan and the Beijing-Tianjin-Hebei region, the Yangtze River Delta, the Guangdong-Hong Kong-Macao Greater Bay Area and regional hub cities, and develop new domestic destinations.
Efforts will also be made to steadily operate the international freight trains heading west to Central Asia and north to Mongolia and Russia to expand the exports of local goods and the imports of resource products like wheat, flaxseed and manganese ore, as well as the point-to-point freight trains to Tianjin and other ports, smooth the eastbound passage to the sea, and foster the close connection with the main channel of the new western sea-land transportation channel to gradually open the southward channel to the sea.
To promote multi-level opening-up, Ningxia will held the fifth China-Arab States Expo and other conferences, forums and exhibitions regarding clean energy, new materials, digital economy, modern agriculture, green food, eco-tourism and other key areas, at a high level.
It will also expedite construction of the cross-border e-commerce comprehensive pilot zone in Yinchuan, start construction of the Yinchuan cross-border e-commerce public service platform, and improve the facilitation service platform for overseas investment enterprises to encourage outbound investment in key areas such as manufacturing, agriculture, energy and resources, and participation in overseas industrial park construction.
Ningxia also issued a document to guide enterprises to expand online channels for foreign trade and explore diversified international markets, develop deep processing, cross-border e-commerce and trade of the high-quality, high-tech and high value-added products, and cultivate Chinese wolfberry, wine, green food, new materials and other internationally-competitive local brands, by relying on state-level development zones and key parks.
According to the document, efforts will also be made to improve the operation level of the Yinchuan Comprehensive Bonded Zone, including cultivating new industries like cross-border e-commerce, food processing, electronic information, international express distribution, and port economy, and developing new business forms like bonded research and development, bonded inspection, financial leasing, bonded exhibition and trade.
Ningxia will also accelerate the construction of special railway lines and open railway stations, actively apply for national first-class railway ports, and build modern land port logistics cluster areasand regional logistics distribution and distribution trading centers.
It will introduce a number of foreign-funded projects with core technologies and great development potential, and deepen practical cooperation with the Beijing-Tianjin-Hebei region, the Yangtze River Delta, the Greater Bay Area, the Yangtze River Economic Belt, and the city clusters in the central plains.
It will also actively optimize the environment by fully implementing the foreign investment law and supporting regulations, and the management system of pre-establishment national treatment plus a negative list, and improving the service system for foreign investment, as well as enterprise-related services.
(Edited by Gu Shanshan with Xinhua Silk Road, gushanshan.1987@163.com)