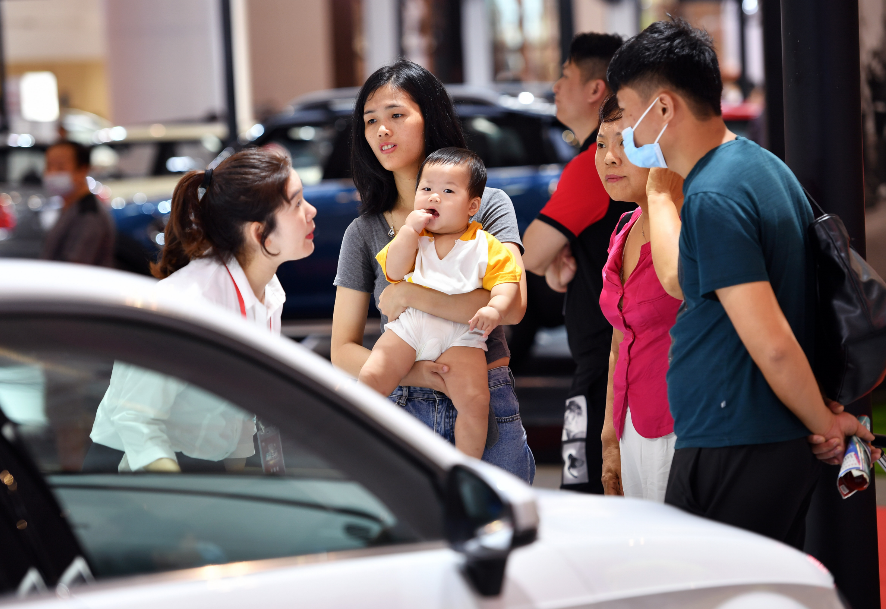 People visit the 14th Hainan Autumn Auto Show in Hainan International Conference and Exhibition Center in Haikou, capital of south China's Hainan Province, Sept. 17, 2020. (Xinhua/Guo Cheng)
BEIJING, April 14 (Xinhua) -- China's automobile market in the first quarter of this year outperformed amid implementation of the favorable policies for automobile consumption, the Economic Information Daily reported on Wednesday.
Leading automobile enterprises in China have announced their first-quarter sales results, with substantial increase in sales.
SAIC Motor, announced recently that it sold about 493,000 vehicles in March, up 112.9 percent year on year, and about 1.14 million vehicles in the first quarter, up 68.2 percent year on year.
Data released by Chery Automobile showed that its vehicle sales in March stood at more than 80,000 units, a year-on-year increase of more than 130 percent. In the first quarter, it sold more than 200,000 vehicles, up more than 90 percent year on year.
The latest statistics from the China Association of Automobile Manufacturers (CAAM) show that more than 2.52 million vehicles were sold on the domestic market in March this year, representing a month-on-month increase of 73.6 percent and a year-on-year increase of 74.9 percent. In the first quarter, nearly 6.5 million vehicles were sold, a year-on-year increase of more than 75 percent.
It is worth noting that the new energy vehicles (NEVs) still provide a strong driving force for auto market growth. The NEV sales on the domestic market were about 226,000 units in March, a jump of 240 percent year on year. In the first quarter, about 515,000 NEVs were sold, representing a year-on-year surge of 280 percent.
The robust automobile market is due partly to the implementation of the policies to support the automobile consumption.
Authorities including the Ministry of Commerce (MOC) and the National Development and Reform Commission (NDRC) have recently announced a program to promote the domestic consumption on a monthly basis, with the automobile consumption as the key part.
East China's Zhejiang Province has recently introduced measures to promote automobile consumption. Measures include increasing license plate quotas for passenger car purchases, encouraging the scheme of trading in used cars for new ones, and promoting the NEV consumption.
Authorities in northeast China's Liaoning Province have recently also announced policies to further promote the consumption recovery and unleash the consumption potential through expanding the automobile consumption.
According to the CAAM, the recent government policies to promote consumption have played a supporting role in the continued recovery of the automobile consumer market, and the implementation and coverage of the policies are expected to be further deepened in the future. (Edited by Hu Pingchao with Xinhua Silk Road, hupingchao@xinhua.org)