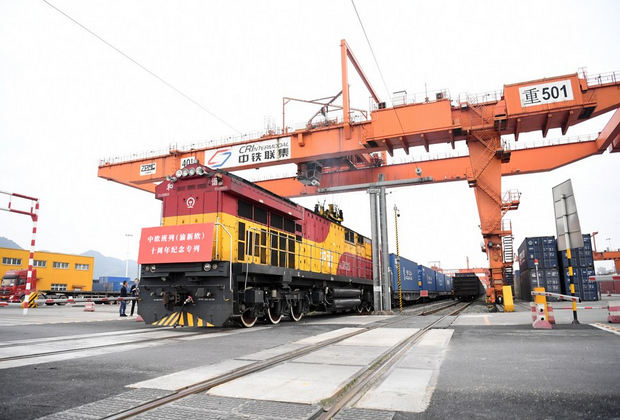 A Yuxin'ou (Chongqing-Xinjiang-Europe) China-Europe freight train is about to leave the Tuanjie Village Station of southwest China's Chongqing Municipality, March 19, 2021. (Xinhua/Tang Yi)
BEIJING, April 13 (Xinhua) -- China's third batch of free trade zones (FTZs) in Liaoning, Zhejiang, Hainan, Hubei, Chongqing, Sichuan, Shaanxi have yielded fruitful results in the past four years since their official launch on April 1, 2017 and become pioneers for a new round of reform and innovative development in China, reported the Xinhua-run Shanghai Securities News on Tuesday.
Over the past four years, 63,000 enterprises registered at China (Liaoning) Pilot Free Trade Zone, with registered capital of 630 billion yuan. A total of 256 major projects were also signed at the FTZ, of which 119 have been put into operation.
The FTZ in Shaanxi has attracted 83,528 market entities to settle down from April, 2017 to the end of March, 2021, including 57,517 new enterprises with an additional registered capital of 931.237 billion yuan.
Four years on, the total number of newly registered enterprises in the Zhengzhou Area of China (Henan) Pilot Free Trade Zone has exceeded 72,000, more than three times of that before the establishment of the FTZ and utilizing up to about 2.4 billion U.S. dollars of foreign capital.
The pilot FTZs are also explorers for institutional innovation. Up till now, 1,055 tasks set out in the overall plan for the FTZs have been basically implemented, and more than 150 achievements of institutional innovation have been replicated and promoted across the whole country, Gao Feng, spokesperson of the Ministry of Commerce (MOC) told a press briefing earlier this month.
With emphasis on institutional innovation, the seven FTZs have scored remarkable success in promoting trade and investment liberalization and facilitation, advancing reform, propelling opening up and development of competitive industrial chains and serving major national strategies, stated Gao.
For example, the FTZ in Zhejiang focuses on the opening up and development of oil and gas industry chain, and has gathered more than 7,500 oil and gas enterprises. In 2020, the FTZ's supply of marine fuel oil rose 15.1 percent year on year, with the oil and gas throughput reaching 127 million tonnes.
The Henan FTZ actively pushes forward the construction of Silk Road in the air, overland Silk Road, online Silk Road, and maritime Silk Road. Last year, the FTZ saw the transaction value of its cross-border e-commerce hit 174.5 billion yuan, up 10.4 percent year on year.
Despite the impact of the COVID-19 pandemic, China (Hubei) Pilot Free Trade Zone managed to boost exports of biomedicine and products of emerging industries. In 2020, the FTZ's foreign trade increased 3.1 percent year on year.
After several rounds of expansion, China now has 21 FTZs. Speaking of whether the country will add more FTZs during the 14th Five-Year Plan period from 2021 to 2025, Tang Wenhong, director of free trade zone and free trade port department under the MOC, said that the ministry would act in accordance with the deployment of the central government and conduct a comprehensive study based on evaluation on the construction achievements of the 21 FTZs. (Edited by Su Dan with Xinhua Silk Road, sudan@xinhua.org)