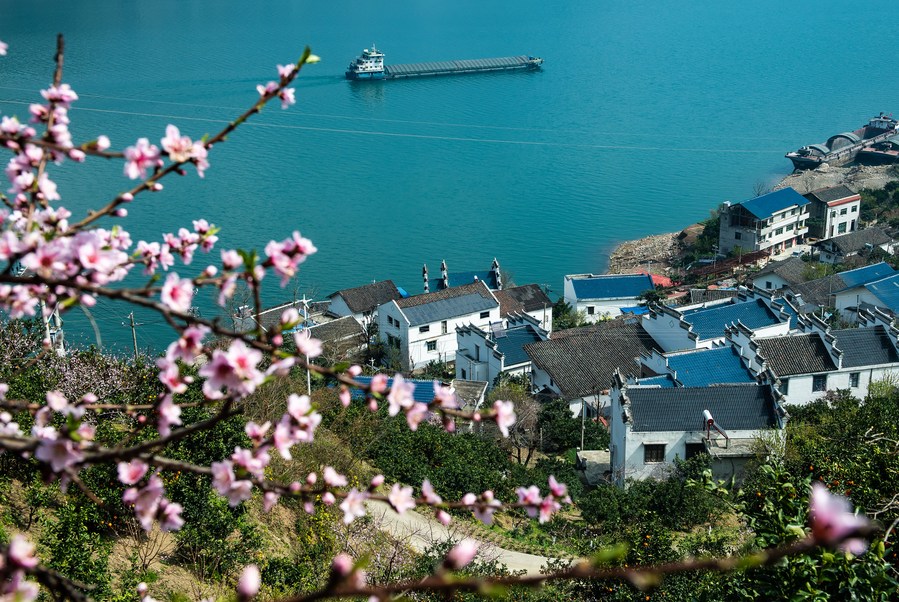 Photo taken on March 3, 2021 shows scenery along the section of Yangtze River in Zigui County, central China's Hubei Province. (Photo by Zheng Jiayu/Xinhua)
BEIJING, April 13 (Xinhua) -- Central China's Hubei Province proposes in its outline of the 14th Five-Year Plan (2021-2025) for national economic and social development and the long-range objectives through the year 2035 issued Monday to build world-class industry clusters in fields related to optics, chips, display, terminals and networks, reported Hubei Daily Monday.
To be specific, the province will cement its leading advantages in optical fiber and cable, optoelectronic devices, optical communication systems and lasers, improve weak links in special optical fiber, optoelectronic chips, and laser materials and devices, strengthen standard and patent layouts, in a bid build a world-class optical communication and laser industry base.
It will also concentrate efforts and resources to promote the construction of a national memory base, accelerate the development of IoT (Internet of Things) chips, Beidou chips, etc., improve related packaging and testing, and the industrial innovation system and development ecology, and build a world-renowned integrated circuit industry base.
It will give full play to the agglomeration effect of industry leaders, further expand the panel industry, improve the industrial supporting capacity, expedite the research and development and application of flexible display, Micro LED and other new technologies, with the aim to forge a global highland for new display technology innovation and industrial development.
It will vigorously introduce head enterprises in intelligent terminal, develop smartphones, tablets, smart TVs, wearable devices and other terminal products, strengthen collaborative development with chips, display, software and other industries, so as to build a key national intelligent terminal production base.
Hubei will also speed up the development of network equipment in the fields of the new-generation mobile communication like 5G, the next-generation internet, cloud computing and IoT, develop network applications and services, information security products and services, accelerate the construction of a national network security talent and innovation base, and build a top information network industry cluster in China.
(Edited by Gu Shanshan with Xinhua Silk Road, gushanshan.1987@163.com)