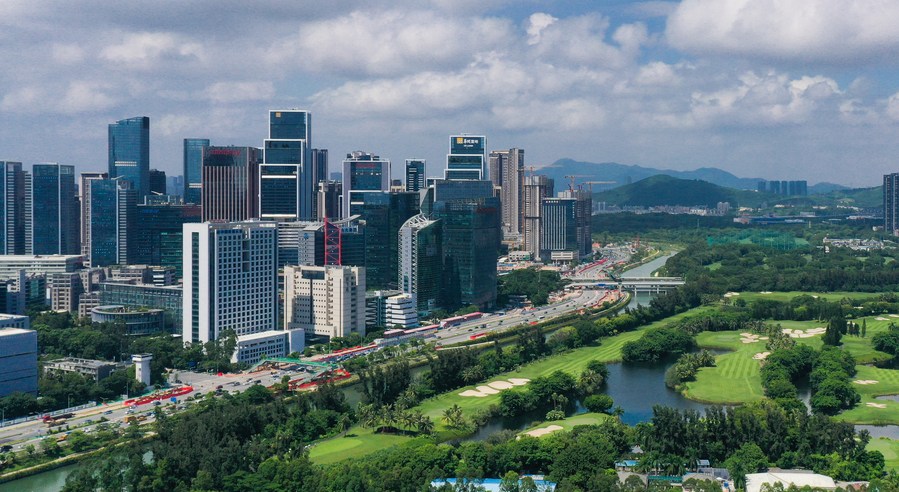 Aerial photo taken on Sept. 27, 2020 shows the science and technology park along the bank of the Dasha River in Nanshan District of Shenzhen, south China's Guangdong Province. (Xinhua/Mao Siqian)
BEIJING, April 12 (Xinhua) -- More favorable policies are on the way to boost the high-quality development of small- and medium-sized enterprises (SMEs) in China, reported Economic Information Daily Monday.
Related authorities have already introduced multiple measures to support the development of the private economy and SMEs, such as creating sound business environment, solving financing problems, and improving fiscal and tax support policies and innovation capabilities, etc., said Shao Ning, president of the 4th Council of the China International Cooperation Association of SMEs (CICASME) at the 4th Congress of CICASME held in the Chinese capital city Beijing April 10.
Local governments have all taken the development of SMEs as priorities, and made a lot of efforts in international cooperation, specialization, refinement, specialty and novelty, integration of industry and finance, management training, publicity and promotion, investment promotion, park construction, etc., Shao added.
According to the 2020 SME development environment assessment report released recently by the China Centre for Promotion of SME Developmentunder the Ministry of Industry and Information Technology (MIIT), the policies and measures introduced by China to optimize the business environment and stimulate the vitality of market players have achieved positive results, and the development environment of SMEs in most participating cities in 2020 has improved significantly compared with that of 2019.
In the first year of the 14th Five-Year Plan period (2021-2025), MIIT will focus on improving policy system, service system and development environment, as well as alleviating financing difficulties faced SMEs and strengthening the protection of legal rights and interests of them, so as to make SMEs more innovative and professional and promote the high-quality development of them, remarked Wang Jiangping, vice minister of MIIT.
(Edited by Gu Shanshan with Xinhua Silk Road, gushanshan.1987@163.com)