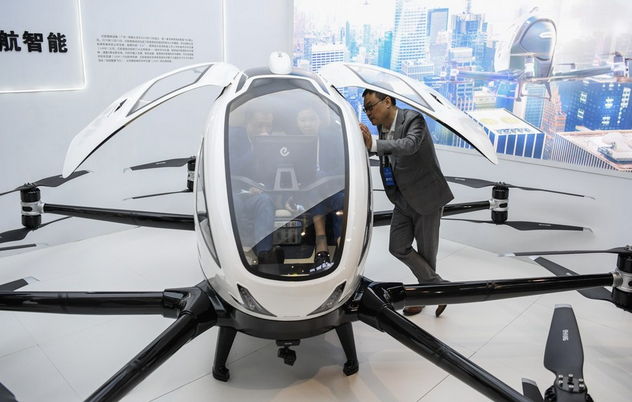 Visitors learn about an autonomous aircraft on display at an exhibition during the "China 5G + Industrial Internet Conference" in Wuhan, central China's Hubei Province, Nov. 19, 2020. (Xinhua/Cheng Min)
BEIJING, April 12 (Xinhua) -- China has basically formed an industrial internet platform system incorporating over 100 influential platforms that have connected with more than 70 million units of devices and over 590,000 industrial applications, Xie Shaofeng, director of the information technology development department of the Ministry of Industry and Information Technology (MIIT) said at the inaugural meeting of the industrial internet platform innovation and cooperation center held in Beijing on last Friday.
Since 2017, the MIIT has issued a series of policies and measures to implement the strategy for the innovative development of industrial internet, such as promotion guidelines on the construction of industrial internet platforms, evaluation methods for industrial internet platforms, and implementation guidelines for encouraging enterprises to move to the cloud, stated Xie.
Over the past three years, the MIIT has supported 225 industrial internet innovative development projects, driving nearly 26 billion yuan of investment by social capital, according to Xie.
He added that in the next stage, the MIIT will move faster to roll out a plan for the integration of informatization and industrialization during the 14th Five-Year Plan (2021-2025) period, an action plan for the digital transformation of manufacturing sector, and press ahead policies concerning industrial internet innovative development projects and the three-year plan for industrial internet plus safe production (2021-2023).
Efforts will also be made to formulate a roadmap for industrial digital transformation, cultivate and promote a number of platforms and solutions for key industries such as raw materials, consumer goods, and safe production, boost the migration of industrial enterprises and industrial equipment to the cloud, and foster new models and formats such as digital management, network-based collaboration, and intelligent production. (Edited by Su Dan with Xinhua Silk Road, sudan@xinhua.org)