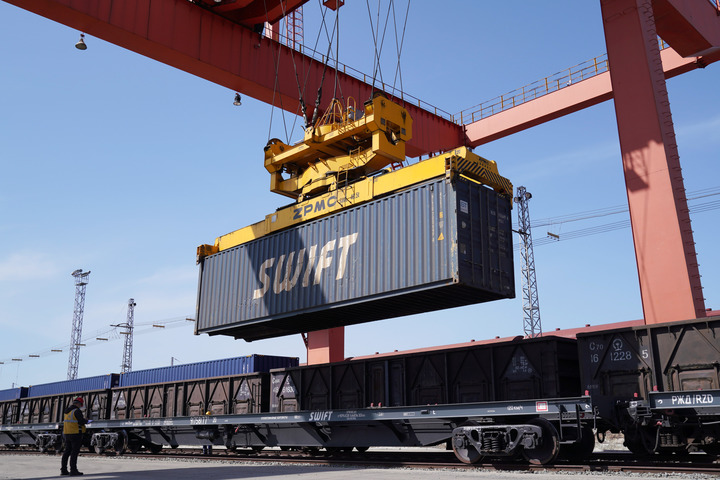 A gantry crane works on a China-Europe freight train at Suifenhe Railway Port in Suifenhe, northeast China's Heilongjiang Province, April 1, 2021.(Xinhua/Wang Jianwei)
BEIJING, April 12 (Xinhua) -- Harbin, capital of northeast China's Heilongjiang Province, saw a significant rise in freight train services to Europe and Central Asia in the first quarter of this year.
During January-March, a total of 136 trains departed from the city to destinations in Central Asia and Europe, data from HAO International Logistics Co., Ltd. showed.
Some 10,532 twenty-foot equivalent units (TEUs) of goods were transported by the trains during the period, up 259 percent year on year.
In the first quarter of this year, Russia became the main exporter of China-Europe freight train (Harbin) services, with its export volume accounting for 90 percent of the total, up 253.41 percent compared to the same period last year.
It is learned that the imported and exported goods carried by freight trains include organic feed, machinery and equipment, automobiles and auto parts, etc.
Initiated in 2011, the China-Europe rail transport service is considered a significant part of the Belt and Road Initiative to boost trade between China and countries participating in the program.
As the COVID-19 pandemic greatly affected sea and air transport capacity, the China-Europe freight train service played a significant role in stabilizing international railway logistics. It ensured the smooth transportation of goods including epidemic control materials, given its all-weather, stable, and regular features. (Edited by Yang Yifan with Xinhua Silk Road, yangyifan@xinhua.org)